Archive for the '1st of the month featured bloggers' Category
Yes I know it's already November 3, but it's never too late for the 1st of the Month Featured Blogger, is it? Besides, I've been busily working on my NaNoWriMo novel–you can keep up with my word count in the sidebar (and if you're wondering, I decided to go with something brand new and left last year's novel for another month…but that's all I'm saying for now!).
This month I'd like you to introduce you (or re-introduce you as the case may be) to Diana Strinati Baur of the blog Creative Structures and of the Baur B & B in Piemonte, northern Italy.
Diane is a wonderful potter and writer who I've gotten to know better through an online friend of mine and a real life friend of hers–Gina DePalma, who you've already heard a great deal about here through the Dolce Italiano and O Foods for Ovarian Cancer Awareness Contests.
Diana's attitude toward life is so inspiring and refreshing, but if you've caught any of her comments here, you probably already know that. She recently wrote a great post about life after 40 entitled "Sister Girl Tales," inspired by another of my favorite bloggers, NYC/Caribbean Ragazza.
Here is a snippet of Diana's post:
I look at myself now and realized it took all of that to become the kind of person who can be content sitting on a hill and creating. I am content with the person I am today. I also wish for myself less work and more joy.

Over the years, [my sister] and I both have started untying the knots of our complicated selves. We both do truly see that getting the most out of these days we have now is of utmost importance. This knowledge forges us together in the strongest of ways.

Staying healthy and happy in mid life is easier with a sister to lean on. And for that, I am eternally grateful.
Here are some of Diana's gorgeous creations, Japanese drinking bowls: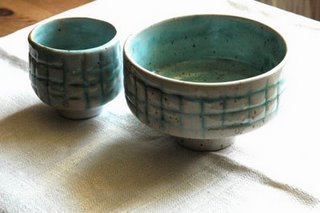 And a glimpse of her life in Piemonte: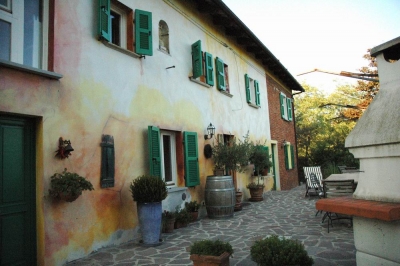 Now go visit Diana and tell her I sent you!
---
---
---
---
---
---