These days there are a lot of us expats from various home countries blogging from Italy (check out my list of links here), but one of the absolute best and one that I always look forward to visiting is Julian and Amanda's A Tuscan View – from Umbria.
Amanda and Julian alternate with fabulous posts on this blog, which also features gorgeous photos. Both write with amazing clarity and share such keen observations–what a lovely, interesting couple they must be to meet in person. I certainly hope to do so someday soon!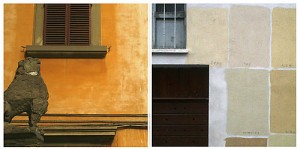 Amanda never fails to invoke gorgeous imagery and deep emotions with her words and photos; Julian's posts are cleverly crafted and laugh-out-loud funny. My favorite of his is called "Sopranome" and tells the tale of the time he nutmegged Jesus, who, not surprisingly, "didn't like it. Not one bit."
One of my favorite posts of Amanda's and one of my favorites of anyone's anywhere is called "The colour of earth" and includes these lines (and the above photo):
Since I first visited Italy, years ago, I have been infatuated with its colours; the warm rosy apricots and rich terracottas of the peeling stucco in the piazzas. Faded frescos with the soft tinctures of the Renaissance, ghosts of vivid lapis blues and true clear reds.

In the countryside, the ever-changing grey green olives and inky dark cypresses stand against the ripened gold of wheat. And the land itself, its ploughed and fallow fields with great clods of soil like raw siena, the fertile colour of earth.

In the cavernous warehouse where we have come to buy the paint I feel suddenly nervous, almost overwhelmed by colour, but I know I haven't come this far to paint yet another stark white wall, so I hold my breath and choose…
*sigh*
As I told Amanda, I wouldn't mind living in that post.
An added bonus is that Amanda features the "best thing I ate today" while Julian always includes "the stupidest thing I did today." How can you not love those tidbits about real life in Italy?
And, just in case you aren't impressed with all of this, consider that Julian is an artist who, along with the help of his lovely wife, runs Artist in Italy painting holidays and workshops in the Tuscan and Umbrian countryside.
You know you want to know more about this spectacularly talented duo, so go visit Julian and Amanda. Just don't blame me when you spend the next couple hours reading their archives. You've been warned.
And speaking of wonderful things in Italy, be sure to head over to Alex's Blog from Italy this Friday, September 5th, when he'll be starting up a recipe contest with prizes in the forms of free subscriptions to the La Cucina Italiana magazine. I'll be on the taste-testing team, so be sure to check out the details!
13 Beans of Wisdom to "1st of the month featured bloggers: september"
---