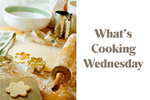 Yesterday I wrote about my own personal weird food tastes, but it's been a while since we've discussed exotic food in southern Italy, so let's talk about snails (and for those of you who read through yesterday's comments, no, don't expect a ghiro recipe here any time soon).
Snails are lumache (loo MAHK eh) in Italian, and I've read that there are literally hundreds of different words for snails in the dialects of southern Italy; what the Badolatese in Calabria call a snail is lambehru (lam BAIR ooh), plural lambehri (lam BAIR ee).
Cute little words for such cute little things, no?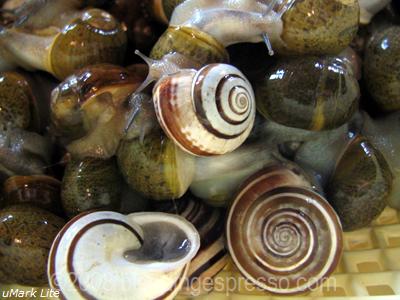 They don't move as slowly as you might think, either. I had to keep coaxing these down the strainer between photos.
Anyway, back at the end of September, after a heavy rainfall, when the time is ideal for snail searches because they haven't yet eaten lots of grass which can make them bitter (I'm told), P went out digging.
Yes, these are land snails (or I suppose garden snails), not sea snails; I've never tasted the latter so I can't offer you any comparison.
I've heard that snails are a love it or hate it kind of thing. I have to admit, a few years ago I didn't like them very much. Now I kind of love them, though, and P definitely does, so I'm always happy to have a dish o' snails whenever the opportunity arises.
And the opportunity really only arises when P goes digging — these babies are truly a delicacy as a kilo of snails can cost upwards of 25-30 euros ($32-$38). Granted, that's two and half pounds of snails (and that's a lot of snails) but still, not cheap.
I'm not sure how other parts of Italy prepare snails, but this is the only way people seem to prepare them around here. So here is:
Pasta with Snails alla Calabrese
(Pasta con Lumache alla Calabrese)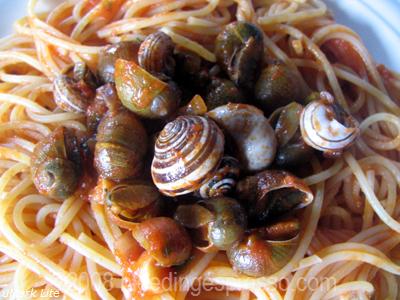 One pound of snails
2 tablespoons olive oil
1 small onion, chopped finely
1 garlic clove, minced
1 can crushed tomatoes
Bunch of dried oregano
Salt to taste
1. Put fresh snails in strainer and let drip for at least an hour, more if you see they're still purging. Some people even do this overnight.
2. Bring a pot of water to a boil and add snails. Let boil for about 10-15 minutes. As scum forms on the top periodically, remove it. When there's no more scum, remove the snails from heat, drain, and rinse.
3. In the meantime, prepare sauce. Over medium heat, fry onion and garlic in olive oil, add tomatoes, and then, after it has simmered for about 15 minutes, add salt and oregano.
4. After a few more minutes, add snails, and let sauce cook for another 10-15 minutes until tomatoes taste done to you.
5. Note that some may choose to remove snails from their shells before adding them to the sauce; I've noticed that in southern Italy, at least, they tend to like everything cooked and served inside shells.
6. To eat the snails, use a toothpick to remove bodies from shells, and discard the dark coiled end, deepest in the shell, which is the gall and can taste quite nasty (although with these particular snails, P assured me that part was actually delicious, and I took his word for it).
Buon appetito!
37 Beans of Wisdom to "What's Cooking Wednesday: Pasta with Snails alla Calabrese"
---