It's What's Cooking Wednesday and also the first full day of O Foods for Ovarian Cancer Awareness Month. Here is my fast, easy, tasty (just like we like 'em!) O Food recipe based on this one from Cooks.com:
Oatmeal Banana Craisin® Muffins
(makes 6 large and 12 mini-muffins)
1/2 c butter
1/2 c brown sugar
2 eggs
1 c mashed bananas (3 bananas)
3/4 c honey
1 tsp vanilla
1 1/2 c flour
1 tsp baking powder
1 tsp baking soda
3/4 tsp salt
1 c oatmeal (rolled oats)
3/4 c Craisins® (or raisins or dried cranberries)
1. Preheat oven to 375°F/190°C.
2. Cream together butter and brown sugar.
3. Add eggs, bananas, honey and vanilla.
4. Mix rest of ingredients except Craisins® together and add to batter.
5. Stir in Craisins®.
6. Fill muffin cups 2/3 full of mixture.
7. Bake for 18 to 20 minutes for the large muffins; 10-12 minutes for mini-muffins. Remove when top springs back to the touch.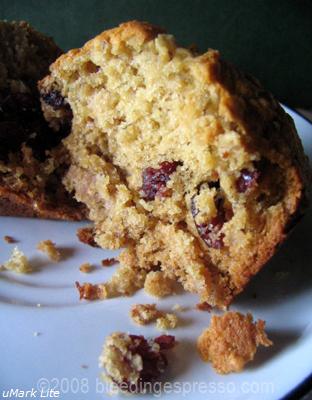 Buon appetito!
O Foods for Ovarian Cancer Awareness Month

From the Ovarian Cancer Research Fund:

Ovarian cancer is the leading cause of death from gynecologic cancers in the United States and is the fifth leading cause of cancer death among U.S. women; a woman's lifetime risk of ovarian cancer is 1 in 67.
The American Cancer Society estimates that 21,650 women will be diagnosed with ovarian cancer in the U.S. in 2008 and about 15,520 women will die from the disease.
The symptoms of ovarian cancer are often vague and subtle, making it difficult to diagnose. There is no effective screening test for ovarian cancer but there are tests which can detect ovarian cancer when patients are at high risk or have early symptoms.
In spite of this patients are usually diagnosed in advanced stages and only 45% survive longer than five years. Only 19% of cases are caught before the cancer has spread beyond the ovary to the pelvic region.
When ovarian cancer is detected and treated early on, the five-year survival rate is greater than 92%.

Please donate to the Ovarian Cancer Research Fund
and help spread the word!
23 Beans of Wisdom to "Oatmeal Banana Craisin Muffins: O Foods for Ovarian Cancer Awareness Month"
---