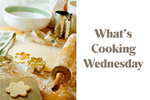 Finally, finally the ridiculously hot temps have given way to a bit of fresh air and cool breezes! I wore pants yesterday people! And I didn't sweat!
So does that mean that I marked the occasion with a triumphant return to the kitchen after weeks of cold salads?
Eh. Not really, no.
This week's What's Cooking Wednesday is a staple around here because it's fast, delicious and filling–and although yes, I do have to turn the stove on, it's only for a few minutes, so it's not so bad.
Now let me say that I've had plenty of fried eggs in my life, but I have never had them as tasty as when P makes these for me. In our house, these are Uova alla Pablo (and yes, these are *our* eggs from our chickens) but you can call them:
Fried Eggs with Red Onion & Cheese
2 tablespoons olive oil
2 eggs
One small red onion, sliced
Salt and pepper to taste
One slice of cheese (Kraft is good), torn in pieces
1. Heat olive oil in small nonstick frying pan over medium heat.
2. Add sliced onions and sauté for about a minute, until just starting to turn translucent.
3. Crack eggs open over the onions and season with salt and pepper.
4. Let cook for a few minutes. When white is half-cooked, put torn slices of cheese over the yolks and elsewhere and let melt.
5. Once all the whites of the eggs are no longer slimy, remove from heat and serve hot with crusty Italian bread.
Buon appetito!
18 Beans of Wisdom to "What's Cooking Wednesday: Fried Eggs with Red Onion and Cheese"
---