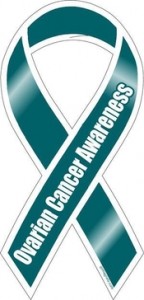 Thank you *so* much to everyone who participated in the O Foods for Ovarian Cancer Awareness Month Contest by donating, posting the announcement, and/or submitting fabulous recipes.
We've raised $415, gathered 45 fabulous O Food recipes, and hopefully reached many women with important information about ovarian cancer, particularly regarding signs and symptoms.
Remember, you can still donate to the Ovarian Cancer Research Fund, and here are another 5 ways you can contribute to ovarian cancer awareness through jewelry.
And I also want to point out Jerry's fabulous "O" Menu over at Jerry's Thoughts, Musings, and Rants! A full-course "O" meal, from an Orchid Martini to an Olive Oil Zucchini Cake with Lemon Crunch and an Ossobuco and more in between (and BarolO to drink). Check it out!
And now, it's time for Part I of the round-up! Sara has Part II at Ms Adventures in Italy, and Jenn has Part III with a list of those who published announcements at The Leftover Queen.
In a slight change of plans, we'll be announcing winners on Monday, so you'll just have to come back then!
Remember that Sara, Jenn, and I also contributed recipes to the O Foods event:
Now, let's start off with some appetizers, soups, salads, side dishes, and even some "first dishes" as we'd call them in Italy:

At Passionate About Baking, you'll find these creative, delicious PotatO Canapes with Cheesy Topping. The topping is made of cream, cheddar and cottage cheese, and the secret ingredient–sage. Yum!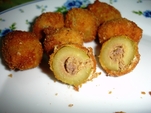 Mary of The Flavors of Abruzzo takes us to Ascoli for Olive Ascolane–olives stuffed with ground beef, prosciutto crudo, grated cheese, and tomato sauce that are then breaded and deep-fried. I know. I want them right now too.

Now to lighten things up, how about an Orange, Olive and Onion Salad from Maria at Kali Orexi? Maria combined fabulous O ingredients that are lovely on their own but make something even more special when combined; she added some lettuce, and then tossed everything together with some cider vinegar and oil. I just love the freshness of Mediterranean salads, don't you?

You know how much I love tomatoes, and this TomatO Chutney from Siri at Siri's Corner looks heavenly. The recipe isn't complicated provided you can find all the required seeds, and then Siri recommends serving it with some hot rice or simply some fresh bread. Sounds great to me!
How about some soup? Proud Italian Cook has shared Onion Soup with Fontina Garlic Bread, and I have to admit, she may have finally convinced me to try making onion soup. This looks so good, and I love the addition of the fontina. So very italiana!

Now, who's in the mood for octopus? Try this Octopus in a Stew by Núria of Spanish Recipes. I've never had octopus in a stew or with potatoes, but I'm pretty sure I will soon. This looks so delicious and easy that I can't wait to try it!

In the mood for some greens? How about this Fresh Okra Stir Fry over at Yankee in a New World. I know that okra is commonly considered a "southern" food at least in the United States, but you can count me as another Yankee who loves this stuff. Has anyone ever seen okra in Italy?

Now although this Onion Gravy by Sefa Firdaus of Food is Love is meant to be served over Yorkshire Pudding, something about it makes me group it near stir-fried okra. The original recipe calls for Worcestershire sauce, but Sefa mixes it up with fish sauce. Sounds fun, doesn't it?
Although this RisottO ith Sweet Basil PestO Chicken Sausage, pestO and fresh basilicO by Palma of Palmabella's Passions was just a bit late for the contest, I still had to share this fabulous dish with all of you. And do let me know when you'll be making it (and set an extra place)!

VB of feed yourself submitted the fabulous Chard Stuffed with RisO ArboriO and PortobellO mushrooms. I love the idea of stuffing chard–and I especially love that you can use leftover rice for this. Mushrooms? Don't get started on mushrooms. Yum! I will probably use some reconstituted dried porcini when I make this. And I *will* make this.
And now for two savory tarts:

The shell of this Onion Tart at Stacey Snacks is based on a Martha Stewart recipe, but Stacey adds rosemary, which I love. Inside there's all kind of onion-y goodness and did I mention bacon? Oh yes. This one would definitely be a winner in this house. Actually I should say "will" be a winner because I'll be making it soon.

This fabulously photographed TomatO Tart was submitted at Passionate About Baking. Yes, you've seen that name before on this list, and that's because our passionate baker was busy busy busy whipping up O Foods for this event. An extra special thank you to one of my very favorite bloggers!
What's that, you want just a sandwich?

OK, so the term "just a sandwich" doesn't apply here. Tallmisto of Life is Still Sweet submitted this wonderful creation: a Chicken PestO MayO, Open faced sandwich with RomanO cheese. In it, you'll find mushrooms, onions, peppers, spinach, chicken cutlets, and cheese. And there's even more! I don't know about you, but it looks like lunch to me.
Now for some hearty main dishes:

Elle of Feeding My Enthusiasms whipped up some Simply Delish Chicken, Onions, and Tomatoes, and it certainly does look delish–there's a great photo of it simmering in the pan over at Elle's place. I love these kind of "throw everything in a skillet" dinners because they're so quick to assemble, and this one looks particularly tasty.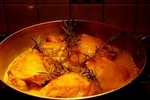 Diana of Creative Structures is one of Gina DePalma's closest friends and has been one of the biggest supporters of our O Foods event. Here is Diana's PollO con rosmarinO e vinO biancO (chicken with rosemary and white wine), and my ribs are warming just seeing that photo.

Ronell of My French Kitchen contributed this fabulous, full meal of Ostrich Strips with Broccoli Gratin and Mint Carrot Salad. I've never had ostrich, but I'd certainly love to try some at Ronell's place! I highly recommend stopping by Ronell's blog, by the way–it's simply gorgeous.

As I told Joanne of Frutto della Passione, I had been patiently waiting for someone to submit some ossobuco–and her Ossobuco alla Milanese is just what I was hoping would appear in the O Foods inbox. I've never had ossobuco, and I don't think P has either, so it will be most interesting to give this recipe a go. Thanks Joanne!
And now, finally, it's time for dessert: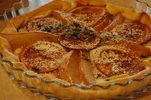 Diana from Creative Structures also contributed this gorgeous, and I'm sure delicious, Orange Pear Tart with Thyme (timO in Italian!) the very first day of the O Foods Contest. Again, I can't thank Diana enough for her support, and if you'd like to thank her too, visit her blog as well as the Baur B & B in northern Italy.

Now if you're feeling particularly tarty, here's another one for you: Arlene's Orange and Dark Chocolate Tart over at The Food of Love. I *love* the mixture of orange and chocolate flavors, and if that's not enough to entice you, Arlene also threw in some almonds. Yum!

Fresh from a Gordon Ramsay cookbook, Happy Cook of My Kitchen Treasures contributed this decadent Orange Pannacotta with Caramelized Oranges. Although her daugther didn't too much care for the booze in it, Happy Cook and her husband rather enjoyed it. And I'm sure I would too–look at those cute caramelized oranges!

Ivy at Kopiaste sent in a fabulous recipe from Greece for this Orange Chocolate Cheesecake. Looks fabulous, Ivy, and thanks so much for sharing your personal experience with your hysterectomy. Hopefully every woman who hears a story like yours realizes how important routine check-ups truly are.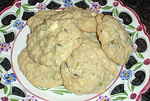 The Food Hunter over at The Food Hunter's Guide to Cuisine contributed these Oatmeal PistachiO White Chocolate Cookies. I'm pretty sure I'd eat that entire plate in one sitting. I love macademia nuts with white chocolate, and I'm sure I'd love pistachios with it even more–I *so* love pistachios.
Now last, but certainly not least, we have Judith's Omeletta Sgonfiata over at Think on it! Unfortunately Judith's camera is broken, but just the sound of this "souffle omelet" makes me want to whip up a puffy omelet with a pinch of hot sauce and then top it with Judith's homemade peach preserves, as she suggests.
Judith also has this week's La Buona Cucina Americana recipe with American Chicken and Dumplings. YUM!
Thanks so much for all these great O Food recipes!
Remember the second half of the round-up is over at Sara's Ms Adventures in Italy, the third part at Jenn's The Leftover Queen, and be sure to come back Monday for the announcement of the winners!
I know there are a lot (and very grateful for the wonderful response!), but don't be overwhelmed! Simply bookmark the round-up pages (and Stumble too if you like!) so you can come back when you have a few moments here and there.
Buon weekend!
26 Beans of Wisdom to "O Foods for Ovarian Cancer Awareness Month Contest Round-up: Part I"
---