Our O Foods for Ovarian Cancer Awareness Month Contest ends tomorrow, but that doesn't mean that you have to stop giving to the Ovarian Cancer Research Fund and raising awareness! If you have already donated and/or participated in the event, thank you kindly, but you still have until midnight tomorrow to be eligible for the contest. And now I have compiled other ways you give to research and raising awareness, and they involve lots o' bling.
Ladies, I know many of you are always looking for new accessories, and guys–why not show the special ladies in your lives how much you love them and care about their health? The holiday season is creeping closer….
5 Ways to Raise Ovarian Cancer Awareness through Jewelry
1. L'Oréal Paris Color of Hope Jewelry Collection. L'Oréal Paris has become the largest corporate sponsor of the Ovarian Cancer Research Fund, largely through their special jewelry and cosmetic collections and Legends Gala Benefits. They have raised over $14 million toward ovarian cancer and research, and if you're feeling in the mood for some Swarovsky, L'Oréal Paris Color of Hope is the way to go.
2. Angela Moore Ovarian Cancer Awareness Collection. For every purchase from Angela Moore's Ovarian Cancer Awareness Collection, 15% of proceeds go to the Ovarian Cancer Research Fund. The lovely bracelet on the right costs $50.
3. Colleen Burg Custom Jewelry. "A turquoise barrel drops through this hand forged circle" by Berg, who donates 20% of all proceeds of pieces bought in September to the Ovarian Cancer Research Fund and throws in a free ovarian cancer symptom card with each order. Cost is $155.


4. Designing Diva's Shining Light Pendant. The Designing Diva dedicates this pendant "as a 'shining light' of hope for all those who struggle" with ovarian cancer as well as family and friends who support them. Fifteen percent of proceeds on sales until December 31, 2008 will be donated to the Ovarian Cancer Research Fund. Cost of the pendant is $42.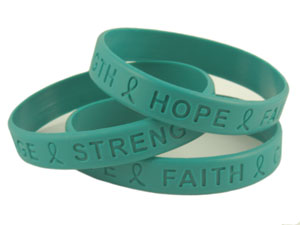 5. Shanrene, Inc.'s Ovarian Cancer Awareness Wristbands. These wristbands are teal silicone with the words Faith, Hope, Courage, and Strength printed on them with awareness ribbons in between. For every wristband bracelet sold, Shanrene, Inc. donates $.25 to the The Lynne Cohen Foundation for Ovarian Cancer Research. Wristbands cost a mere 99 cents a piece. Perfect for getting a bunch and passing them out to friends and family, no?
And one more fun girly way to raise awareness? Paint your toenails teal!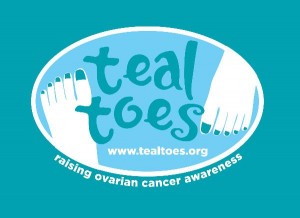 Teal is the official color for Ovarian Cancer Awareness, and even though September is ending, that's no reason you can't help raise awareness year-round by putting teal in your pedicure rotation.
Read more about TealToes.org and also get their suggestions for polish here.
Oh and lastly, check out Mom Central's Contest for Kelly Ripa-designed Ovarian Cancer Awareness t-shirts as well as for more information on Electrolux's new Turquoise Sky washer and dryer, for which the company will be donating $200 to the Ovarian Cancer Research Fund for every pair purchased.
Now go forth, buy, and spread ovarian cancer awareness!
20 Beans of Wisdom to "5 ways to raise ovarian cancer awareness through jewelry"
---