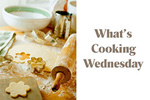 Yes, today is What's Cooking Wednesday, but it's also the first of the month, which means it's time for a featured blogger, and who better to feature than Shannon of Tales from the Fairy Blogmother, creator and host of What's Cooking Wednesday?
Shan's was one of the first blogs I ever read, months before I had one of my own, and since then, I've always looked forward to finding out what she and her family (includes two adorable little girls!) are up to. Shan writes about her life as a mom and wife and active fundraiser for many good causes (and so much more!) with such honesty, I can't help but feel like we just chatted on the phone after reading her posts. And I just *love* when she shares family memories as well.
So what I'm saying is, you should visit Shan on Wednesdays for sure to check out all the lovely WCW recipes, but hang around the rest of the week too, and you're likely to find yourself wondering what the fam' is up to this weekend.
(I hope that doesn't sound creepy Shan, but I really do wish I could come to your parties and family get-togethers!)
Now for those of you who expected a recipe today, I'm going to cheat a bit–I *did* post two recipes last week, you know.
Here is what I had for lunch yesterday: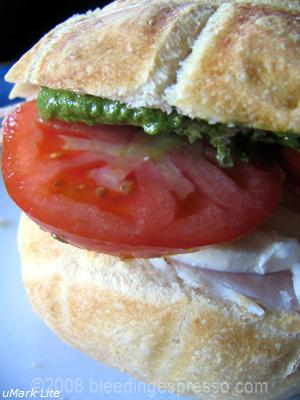 You want a closer look?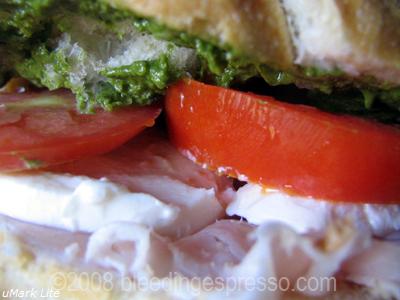 That's prosciutto cotto, mozzarella, tomatoes, and pesto on a fabulous, fresh "rosetta" roll. The pesto recipe can be found here, and this panino was a great way to use up pesto left over from the previous night's pasta.
If even after the pesto, you're still feeling recipe-deprived, be sure to come back Friday when I'll be posting my part of the O Foods for Ovarian Cancer Awareness Month Contest round-up (including prize winners). Lots of great O Foods coming your way soon, so stay tuned!
22 Beans of Wisdom to "1st of the month featured blogger plus a pesto sandwich"
---