Archive for the 'uniquely italian' Category
The physical layout of life in a medieval hilltop village in southern Italy is often hard to grasp — especially for people who haven't been here — so I'm going to try to explain it.
As I've written before, many medieval villages up on the hills have counterpart towns on the sea; we're up on the hill, where houses are very close to one another, often touching. This is about a quarter of Badolato (our quarter, as it were) with the Ionian Sea in the background: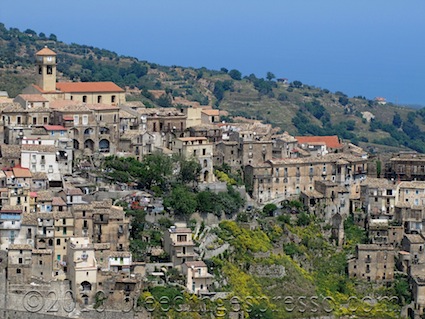 Around the outskirts of town, there are small green patches where people have their gardens, even animals. Most of them are places where houses used to be but have fallen or otherwise been compromised, but any time you can get just a little "orto" near your house, you've scored.
Last year, P and I secured a small chunk of land very close to our house (it's about a 30 second walk), but it's not like a "yard" that some might imagine.
There are actually two levels to it; one you can see below and the other is just off to the side of this, a few steps down to the right, and is where we plant veggies. You can see the chicken coop and goat pen on the left. The house with the big hole in it? Not ours. You can actually see our bedroom window, though…that brown squarish thing just to the left of the whitish house? I have it in a note on Flickr if you click through: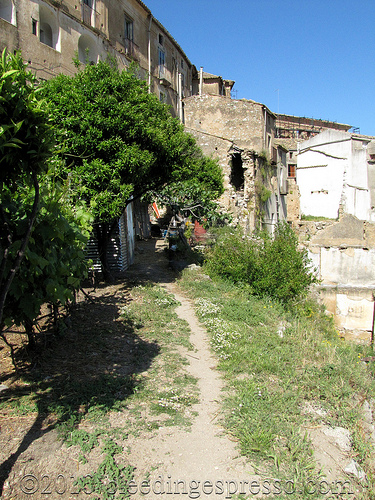 To give you an idea of the distance, here is a photo taken about half way between our house and the entrance to orto, looking toward the house (the last house on the right — it's on a corner, and yes I know it needs paint, badly):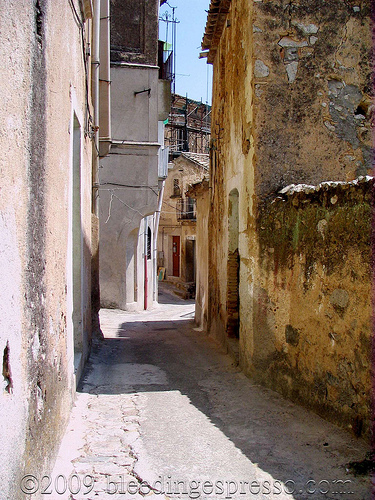 This photo overlooks the beginning of the garden (you can see the tops of our trees just past the iron railing), although the entrance is another twenty or so paces away: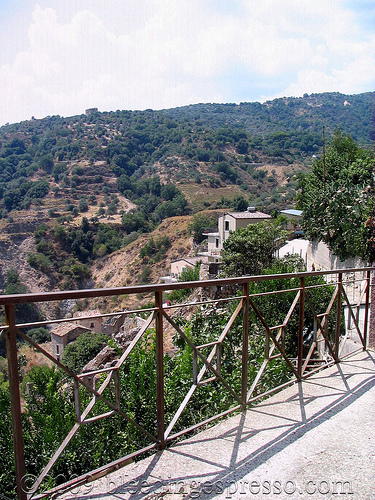 And here is a photo from the outside looking in; I've labeled it on Flickr with notes (click on the photo to go there) so you can see where we live compared to where the goats live in our orto: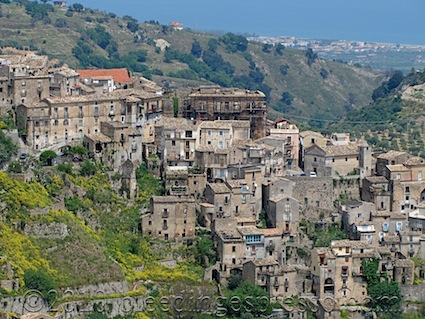 We also keep some chickens and hens there: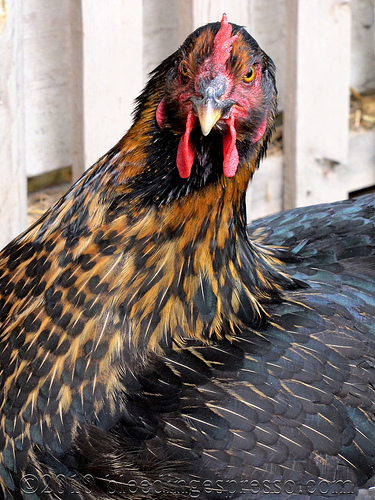 Our orto has a lemon tree, a couple mandarin trees, a nespole tree, a fig tree, a small grapevine, and we also plant various crops there, including lettuce, tomatoes, onions, cucumbers, peas, peperoncini, basil, and this year…strawberries!
And here is the view from our orto (from inside the goat pen):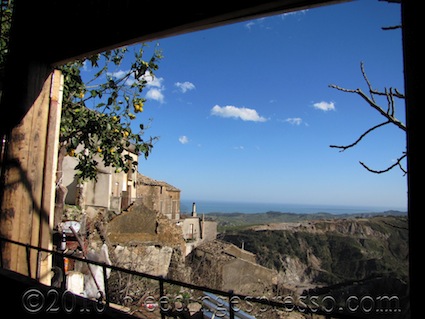 This was taken a couple months ago, so those branches you see on the right are now full of fig leaves and the beginnings of some fruit.
So as you can see, it's a nice little space that produces plenty for the two of us — actually way more than we need so we end up giving to friends and neighbors, and often get things in return that we haven't grown yet, like zucchini and eggplants and also all kinds of pork products since we don't have a pig. Yet.
Are you wondering about olives and olive oil? Well, there's also some unofficial news on that, but it's going to have to wait for another post.
Phew. Any questions?
---
---
---
---
---
---