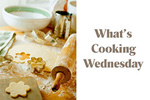 This week's What's Cooking Wednesday recipe screams summer because of the gorgeous fresh fagiolini (green beans) that star in the dish; a more hearty version of this basic combo can be found at my recipe for Pork, Green Beans, and Potatoes in Tomato Sauce.
Now, before we get started, if you think you don't like green beans, please find some fresh ones. Trust me, they have nothing to do with canned green beans (to be honest, I'm not a huge fan of those either). As with any beans, they take a little prep work (washing, snapping off the ends, and blanching), but they are *so* worth it.
We didn't grow our own fagiolini this year, but we will definitely give it a go next year. The beans used in this recipe, of course, are locally grown though. And if you're curious as to what *is* going on in our garden, check out our:
Lettuce/lattuga: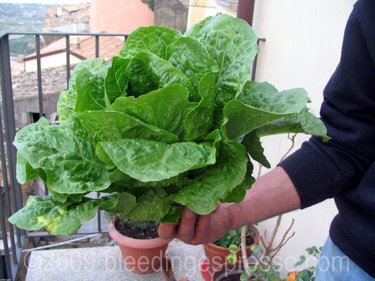 Onions/cipolle:
The cucumbers and tomatoes are ripening as I type! Yay!
OK, the recipe. Traditionally instead of the pancetta, the Badolatese would use "carne salata," spicy, salty lard particular to here; (luckily) we didn't have any, so we substituted pancetta, and it worked great. You can use cubed ham if you're short on pancetta.
Green Beans, Pancetta, and Potatoes
Fagiolini con pancetta e patate

5 tablespoons olive oil
Half kilo (about a pound) of fresh green beans
One medium onion, diced
100 grams (about 1/4 pound) of pancetta, cubed
4 medium potatoes, peeled and cut into chunks or cubed (your choice)
Salt to taste
1. Wash beans and snap (or snip) off ends.
2. Bring a pot of water to boil, then drop in beans for about 3-5 minutes until they are bright green but still rather al dente. Many say to then drop them into a waiting bowl of ice water to stop the cooking process, but I never do–they're always fine, and I save myself another dish to wash. You just have to get used to when to take them out, that's all.
3. Put about five tablespoons of oil in a large frying pan and heat over medium. When the oil is hot, add the onions and let saute for a couple of minutes.
4. Add pancetta to pan, again letting it saute for a couple minutes, then add potatoes and mix together.
5. The potatoes will take the longest to cook, of course, so let this mixture cook for about 15-25 minutes–depends on how large your potato chunks are.
6. Add the green beans and some salt and mix everything together. Let cook for another 10 minutes or so, stirring and adding water if it gets a bit dry. The dish is ready when the potatoes and beans are cooked to your satisfaction. Be sure to adjust for salt.
7. Serve hot with bread–or eat leftover cold the next day as a salad. YUM!
Buon appetito!
23 Beans of Wisdom to "What's Cooking Wednesday: Green Beans, Pancetta, and Potatoes"
---