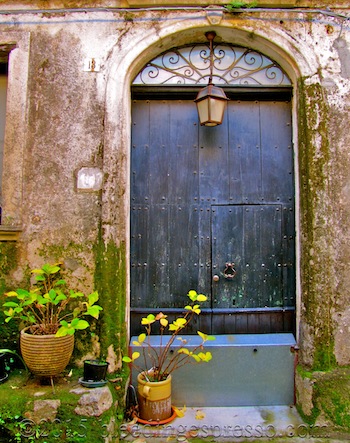 You've probably heard the phrase "living an authentic life" kicked around, especially in the past several years. Generally, it means bringing our actions in line with our thoughts and beliefs . . . quite simply, being ourselves, living "your truth."
Living an authentic life means identifying what makes you feel alive and vibrant and then having the courage to live and operate in that space while battling down any fears that would inhibit you from doing so.
It sounds simple, in theory, but it's actually rather difficult for many of us to achieve and sustain. Whether it's societal or familial norms and pressures or just our own inner monologues messing with us, finding one's authentic self can be a monumental struggle.
Still, living with authenticity has become quite an "in" thing to do, or at least to strive for, though some people may find it a bit too "woo" to call it as such. Before I moved to Italy, I had certainly never heard the term, so it wasn't a conscious goal of mine.
But several years into my move and many Internet hours logged later, I realized that "authenticity" put a name to exactly what I had been trying to do.
To me, I was simply moving to where I just felt more "me" than I ever had before . . . and, in turn, living here has most definitely brought me closer to living my authentic life. Italy has pushed me in ways I didn't know I needed, like forcing me to have a little (a lot) more patience with just about everything and, especially in the early years when I spoke very little Italian, learning how to be truly by myself and enjoy my own company.
Italy has also taught me to be happy with living with a lot fewer *things* (and not care so much about the toys other people have) and to become more in touch with my body by making better food choices, eating seasonally and locally, and even growing/raising some of our food supply.
I also move a great deal more than I ever would have in the States, where I most likely would have been tied to a desk for most of my day in a 9-5 (or 8-8ish if I had chosen law firm "life"). Freelancing rocks, and I doubt I ever would have tried it if I had stayed in the US. Now I can't imagine doing anything else. Here I set my own schedule and take daily walks (up and down *lots* of hills!) — usually several per day if the weather is nice. Yoga has also become a bigger part of my life here, even though I had learned the basics way back in college, several years before I left the US.
Could I have found my truth somewhere else? Possibly, and Italy is definitely not the place for everyone to find theirs. Many people have a romantic idea of living in Italy, especially in a quaint village like mine full of welcoming people. And yes, la vita can indeed be objectively bella here a lot of the time (the scenery is, indeed, *amazing*), but it can also be infuriatingly frustrating and soul-crushing, whether it's dealing with bureaucracy or trying to express one's true self in a foreign language.
Any major physical relocation is challenging, albeit in different ways, and I'm a firm believer in "wherever you go, there you are," but sometimes starting over in a new place can give you the perspective you need to shed old labels and notions you have of yourself and gradually get to know the real you a whole lot better — and not the "you" the people around you have told you that you are for your entire life, or who you're "supposed" to be.
And that is a big part of finding your authentic self: releasing the past and living in the present.
Being mindful of the moment and those around you grounds the soul while simultaneously allowing you to be open to new experiences. Mindfulness can also lead you to become more empathetic to the struggles of others, too, as you accept not only yourself as you are but also others' authentic selves as well.
So is that it? Am I done, having won the authenticity lottery?
Erm, no.
It turns out this living authentically thing is a moving target. As life changes, we change, too — and the quest for living authentically is continuous.
Lucky for us, our capacity to grow, change, and adapt is limitless.
About seventeen months ago, my whole world was upended in a most wonderful way with the birth of my daughter. I'm convinced that my own quest for authentic living in the years preceding her arrival has helped me immensely in adjusting to my new truth — one that now includes providing guidance for my daughter through her life journey.
And if I needed another reason to keep on pursuing an authentic life, well there couldn't be a more adorable one.
*
This month, the blogging groups Italy Blogging Roundtable and COSI' (Crazy Observations by Stranieri in Italy) are writing on the same theme: authenticity. Please check out the rest of the posts as well (links will be added as posts are published):
26 Beans of Wisdom to "Living Authentically: How Italy Forced the Issue"
---