Some of you know we have some fowl (hah!) stuff going down around here — and now that includes double yolk eggs, which you can read more about below. First, here's a quick peek into the coop.
In addition to several pulcini (chicks) and chickens (kept separately), we also have three hens (including one bantam) and a bantam rooster who roam around the garden and scare the bejeebers out of the dogs, especially poor Luna.
Three hens that lay one egg a day are plenty for us; once they get into their rhythm, we'll probably even have extra to give away and/or sell over the summer. The tourists who come to the village love farm fresh eggs, and who can blame them?
The little golden one on the left is a bantam hen and the partner to the bantam rooster; I'm not sure what breed the black hens are.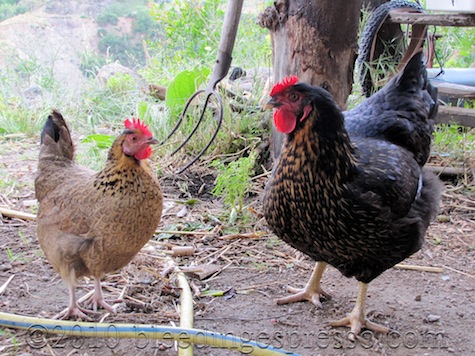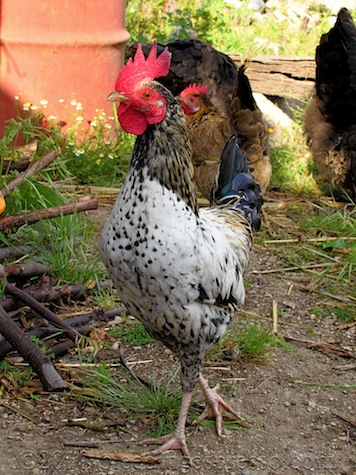 So, with the warmer temperatures, egg-laying is now kicking into full gear and the girls are really starting to produce. Did you know that sometimes as hens' cycles are getting regulated, they may do things like lay strange eggs? One of our hens has been doing this: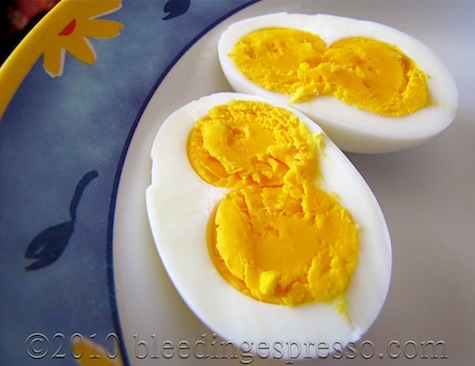 Laying double yolk eggs may also be a genetic trait. I suppose time will tell with ours, but all I can say is that it's pretty awesome to whip up a frittata using just three eggs because they each have two "rossi" (as they're called in Italian) in the middle.
And that's no yolk!
Hahahahaha…ahem.
What's your favorite way to enjoy eggs?
If you're ever stuck for ideas, remember I have an egg section on the recipes page!
30 Beans of Wisdom to "Three Hens, a Bantam Rooster, and Double Yolk Eggs"
---