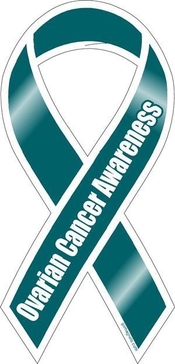 A big thank you to everyone who participated in the 2nd Annual O Foods for Ovarian Cancer Awareness Month Contest by donating, posting the announcement, and/or submitting fabulous recipes.
In these two years, we've raised $600 for the Ovarian Cancer Research Fund, gathered nearly 100 fabulous O Food recipes, and hopefully reached many women with important information about ovarian cancer, particularly regarding signs and symptoms.
Remember, you can still donate to the Ovarian Cancer Research Fund, and here are another 5 ways you can contribute to ovarian cancer awareness through jewelry. Other posts related to the Ovarian Cancer Awareness Month events include:
Remember Gina herself will be choosing the grand prize winner this year–and winners will be announced on Friday, so be sure to come back then!
And now, it's time for Part 1 of the roundup (as I remind you that I made the classic, tasty Spaghetti Aglio Olio e Peperoncino for this year's O Foods Contest); Sara has Part 2 of the roundup at Ms Adventures in Italy.
First I want to thank those of you who posted the contest announcement and are eligible for the Teal Toes gift bag prize (if you're not listed here or at Sara's place, let us know!):
Now, let's start off with some appetizers, soups, salads, side dishes, savory tarts, and even some "first dishes" as we'd call them in Italy: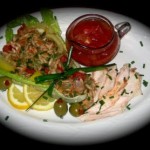 This Insalata Calda d'Orzo comes from a very special blogger close to this cause–Gina DePalma's cousin Nicki who blogs at Color Me Inspired. I'm especially loving how the colors of the Italian flag shine through here. Such fabulous presentation! Thanks Nicki!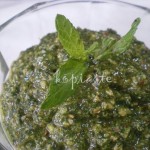 I'm including pesto here since it can be used as an appetizer, but of course you can always mix it up with pasta as well for a snazzy primo piatto. Check out Ivy's Mint Pesto with Almonds and Graviera at Kopiaste. Mmmm I can taste that minty goodness from here! Grazie mille Ivy!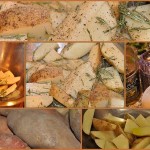 Here is a fabulously healthy and tasty way to enjoy the beloved potato. Diana of GardenCuizine shares her recipe for Oven Roasted Rosemary Potato Fries (which, by the way, features yet another "O" if you consider the rosemary is "rosemarino" in Italian). Thanks so much Diana!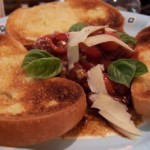 Next up is Amy's Tomato Salad with Asiago Cheese over at Tomato Hill. I must admit that the tomato and any kind of formaggio are two of my very favorite "O" foods. Great combo here, Amy! Thanks for participating!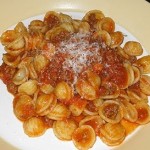 The Food Hunter contributes Orrichiette with Ragu alla Bolognese over at the Food Hunter's Guide to Cuisine. You'll often see this adorable ear-shaped pasta paired with greens like broccoli rabe, but I agree with the Food Hunter that it'll work just fine to catch up tasty bits of bolognese as well. Thanks Food Hunter!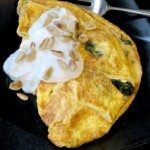 Oh wow. Check out Elle's Greek Omelet for Breakfast, which has pine nuts, oregano, spinach, feta, and oh I'll just stop there before you make a drooling mess on your keyboard. Elle blogs at Feeding My Enthusiasms. Thanks for participating Elle!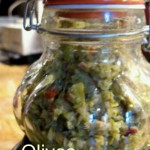 Our dear friend Judith of Think On It! sent in this wonderful Olive Spread with just three ingredients that all incorporate the "O": olives, peperoncino, olive oil. I *know* this will be a huge hit at my house when I make this. Thanks so much Judith!
And while we're talking olives, be sure to check out the Olive Focaccia over at La Vita è Bella! Thanks for sending this in Grace!
Another dear friend in Italy, Michelle of Michellanea, sent in this Spelt Salad with Fennel and Pomegranate, which in Italian is Insalata di farro con finocchio e melagrano. Helloooo O's! This sounds delicious, awfully pretty, and great for fall as well now that our pomegranates are coming back into season. Thanks Michelle!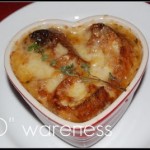 Jen of NJ Epicurean serves up a hearty Onion Soup with Loads of Thyme and Giant Gruyère Crostini. The recipe comes from Epicurious, but Jen makes it all her own even serving it up in an adorable heart-shaped bowl. Thanks so much for sending this in, Jen. I imagine quite a few fall and winter days will be warmed up thanks to you!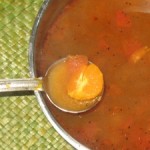 Lavanya at Pieces of paper, squiggly lines shows there's much more than writing in her bag of tricks. Check out this Orange and Tomato Rasam, an autumn twist on her prized Pineapple Rasam, which she notes is "something of a south Indian 'delicacy.'" I've never had any rasam, but I'd love to head over to Lavanya's for my first taste. This looks amazing. Thanks Lavanya!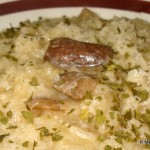 Now back here in Calabria, we have Cherrye's Wild Mushroom Risotto over at My Bella Vita. OK, the recipe is really her husband's, but it hardly matters when you have a plate of creamy porcini risotto in front of you. Seconds please! Thanks for sending this in, Cherrye (and Peppe)!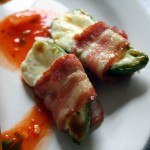 Girlichef contributes these Stuffed, Wrapped Jalapeno Peppers. Um, did somebody say cream cheese *and* bacon? Wow. I'm *so* in, girlichef. If you click over, you'll find a whole series of droolworthy photos, but don't say I didn't warn you. Thanks girlichef!
Palma at Palmabella's Passions sent in this lovely Onion Fig Tart. Sounds like a gorgeous combination with the onions and figs, two of my very favorite foods. Palma created this based on a tart she saw at a bakery in Washington; excellent work! Thanks Palma!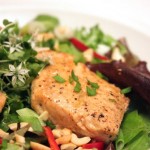 Lisa is Cooking sent over this refreshing Mango Salmon Salad. Salmon is one of my very favorite foods, and I don't eat it nearly enough. This salad is tossed with a lime shallot vinaigrette and a little arugula. Yum! Thanks for showing us another way to enjoy salmon, Lisa!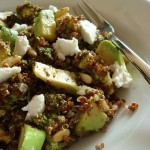 Erika at Sweet Pea sent in her Avocado, Goat Cheese, and Quinoa Salad. I'm not sure it gets much healthier and tastier than this…and you *know* I'm all about the goat cheese! Thanks so much for contributing this fabulous recipe, Erika!
Now for some hearty main dishes: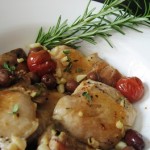 Maria of My Place in the Sun sent over some Chicken Fricasee Abruzzi Style, which translates to Pollo all'abruzzese coi pomodorini e le olive, i.e., lots of "O" love in Italian. This looks like something that could easily be served on a Calabrian table too–so of course I love the looks of this. Thanks Maria!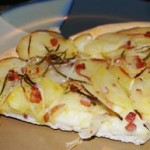 Jerry of Jerry's Thoughts, Musings, and Rants! sent in an appetizer and main course all in one–Onion, Potato, Pancetta, and Rosemary Pizza. Some of my favorite foods combined all on a pizza? Yeah, that's pretty much heaven right there, Jerry. Thanks so much for sending it in!
And last but certainly not least, dessert: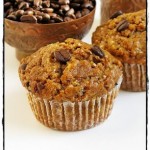 Deeba of Passionate About Baking sent in these Cappuccino Buttermilk Muffins, which you *know* I'm all over. You may be wondering whether cappuccino is really a food. Well it certainly is in my book but in any event these are also loaded down with chips made of cioccolato. Yum yum yum. Thanks Deeba!
*UPDATED: Two last O food recipes that slipped through the cracks:*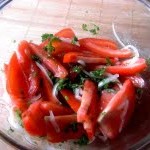 Noelle of An Opera Singer in the Kitchen submitted a gorgeous Chilean Charquican and Tomato Salad. That's pronounced Char-KEE-can, and Noelle describes it as kind of like a pot pie and great for hiding veggies (plus it has potatOes!); the tomato and red onion salad goes beautifully with it. Thanks Noelle!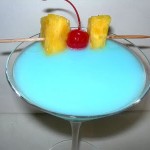 The Happy Cook's gorgeous Brazilian night cocktail made of Batida de Coco, vodka, and Blue Curacao over at My Kitchen Treasures. What a way to wrap up the roundup. May I have another?
Thanks so much for all these great O Food recipes!
I know there are a lot of recipes (and we're very grateful for the wonderful response!), but don't be overwhelmed! Simply bookmark the round-up pages (and Stumble too if you like!) so you can come back when you have a few moments here and there.
Remember the second half of the round-up is over at Sara's Ms Adventures in Italy, and be sure to come back Friday for the announcement of the winners!
18 Beans of Wisdom to "2nd Annual O Foods Contest for Ovarian Cancer Awareness Month Roundup Part 1"
---