It's that time of year again…time to celebrate the wonder that is Nutella with World Nutella Day!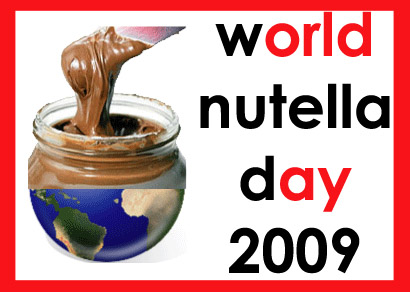 For those who don't know, Nutella is more than just a "chocolaty hazelnut spread," it is a way of life.
From childhood memories to oozing hot crepes, from breakfasts on vacation to free-spooning sessions on the couch, Nutella is prominent in the memories of many children and grown-up children in the world.
Two years ago we gave it its own holiday, and this year we're continuing the tradition.
Sara from Ms. Adventures in Italy and Michelle from Bleeding Espresso (and Shelley from At Home in Rome, in spirit) solemnly declare Thursday, February 5th "World Nutella Day 2009″ – a day to celebrate, to get creative with, and most importantly, to EAT Nutella.
How to participate:
(Please read carefully because the rules are a bit different from previous years)
Do something, anything with Nutella. Make a recipe, take a picture of yourself eating it with a BIG spoon, make art, wax poetic, re-live your first experience eating Nutella. Have a Nutella-eating contest or even a Nutella party!
Take pictures and/or upload a video then blog about it ON February 5th, 2009. In your blog post, include links to Ms. Adventures in Italy, Bleeding Espresso, and World Nutella Day as well as the World Nutella Day 2009 badge/button (below). Please try to post ON FEBRUARY 5 so that we can create a true chocolaty hazelnut wave across the blogosphere on World Nutella Day!
Email nutelladay [at] nutelladay [dot] com with the subject "Nutella Day Entry" and include:

Your Name
Your Blog's Name
Your Blog's URL
Your Post URL/Permalink
One 100×100 pixel photo

We will post the round-up of all submission on Monday, February 9, 2009, but in the meantime, please feel free to post this announcement on your blog to spread the word!
And if you want to use an organic or other type of Nutella substitute, go for it! It's all about the chocolate and hazelnut love!
Be sure to also add your photos to the Nutella Day Flickr Pool and your videos to the YouTube Nutella Day Station. You can also join the World Nutella Day Facebook group and follow @NutellaDay on Twitter!
Check out the last two years of World Nutella Days for inspiration:
And now to kick things off, I'm going to share my latest Nutella creation, Italian-style Hot Chocolate with Nutella.
I've written about Cioccolata Calda over at Italy Magazine, so do have a look if you don't know what I mean by "Italian-style hot chocolate" (and see a great instructional video on how to make your own at home).
Let's just say Italian hot chocolate isn't watery, more syrupy, even pudding-y if you like it that way.  Ilva of Lucullian Delights also has a great recipe for dense hot chocolate.
The recipe below is something simple that I whipped up the other day. You can add cocoa and/or espresso powder, a cinnamon stick, some vanilla, even peanut butter, but this is the basic recipe and technique. And it's *so* good.
Italian-Style Hot Chocolate with Nutella
– 1 cup of milk
– 3 tablespoons flour or cornstarch
– 3 tablespoons Nutella
1. In a small saucepan, whisk together flour and milk and heat through, being sure to get out any lumps.
2. Add Nutella and bring to a boil, stirring to get the consistency you like. If you want it thicker, add more flour or cornstarch; if you want it thinner, add milk and use less thickener next time.
3. Pour into your favorite mug (yes, mine is a Nutella mug!), and enjoy with a spoon. Be careful as it's very hot!
Buon appetito!
Now don't forget to spread the word about World Nutella Day and get your recipes ready! And check out the rest of the What's Cooking Wednesday recipes too!
37 Beans of Wisdom to "World Nutella Day 2009 & Italian-Style Hot Chocolate with Nutella"
---