Archive for the 'nutella day' Category
---
---

Well Nutella lovers, you have truly outdone yourselves. The 4th annual World Nutella Day was a *huge* success with 150 entries, countless tweets and Facebook mentions, and even some great press…and so many entries in foreign languages such as Italian, Spanish, French, Portuguese, and Polish!
Thank you *so* much for making this year Nutella Day's best yet! Are you, by chance, already considering what a 5th year anniversary of World Nutella Day might look like? If you have any suggestions, please feel free to pass them along via email, comment, tweet @nutelladay, or on the Facebook fan page (8,500 fans and growing!).
Now, what you've all been waiting for: The Round-Up. Yes, all capital letters, because this is a big one, half here and half at Sara's Ms Adventures in Italy.
Bookmark this baby, Stumble it, do what you must to enjoy all these wonderful recipes from around the world–and remember recipes from *all* World Nutella Days can be found at NutellaDay.com (give us a bit to add this year's stash though!).
Here we go!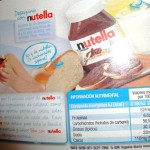 First I need to direct your attention to a story sent by Susan Brown. Her friend, Silke Gondolf, a film director for German TV who is shooting a documentary/TV show on driving the Pan-American highway which runs from Alaska to the foot of Argentina. "The entire job has been powered by Nutella," writes Susan.
How so?
As explained by Susan:
They (all 4 of them) came down with malaria last week. They have to take medicine to kill the bugs but they take the medicine with nutella. The medicine can make you anemic so she took a photo [above] to show that Nutella besides being dee-lish also has iron in it. Just thought I would contribute this to show that Nutella keeps film crews happy and shooting pictures but could possibly also be a cure for anemia and malaria. Nutella cures everything!!!
There you have it. Thanks so much for sharing, Susan!
Next, Amanda of Is This Thing On? made a video of her creation, which incorporates some of my favorite things: pound cake, Nutella, banana, and panini. Yum! Really love this Amanda; thank you!
Gloria of At Home in Tuscany shares some very important information on how to deal with World Nutella Day when you're on a diet. Gloria shares her dream Nutella menu, which I have to say does look rather wonderful. Grazie Gloria!
PocketCultures.com showed its Nutella love with a special post, as did Lorenzo Petruzziello at Modern Culture Italy; and here's some quick advice from a Nutella lover called Emoccia: "When you get home after school, spread Nutella on a flour tortilla. Roll it up. Enjoy it with a glass of milk." Grazie!
Here's a photo from what *must* be the best legal workplace in the world, the law firm of Howell Fleming in Peterborough, Ontario, with the caption:
WE WISH EVERYDAY WAS NATIONAL NUTELLA DAY!!!!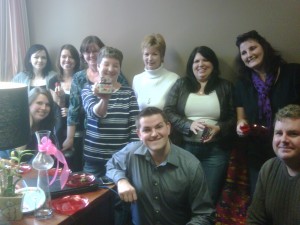 And finally, The Nutella Thief by Jamie Shelman of Small Expectations: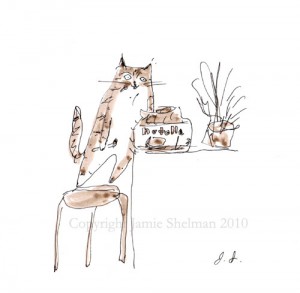 This limited edition print is available for purchase at Etsy, by the way.
Now some recipes and more Nutella stories: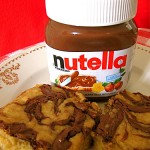 This year I contributed Banana Nutella Brownies, keeping with my banana and Nutella theme–I think I've done a version of that every year for Nutella Day. Hmm…may have to branch out in another direction next year. I'm thinking something with goat cheese perhaps? Hopefully my caprine kids cooperate!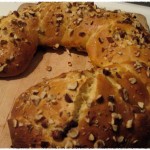 Rossella of Ma che ti sei mangiato contributes Pane e Nutella fatti in casa (homemade bread *and* homemade Nutella). Classic combination, indeed, but when it's all homemade, it's even more special. Thanks Rossella!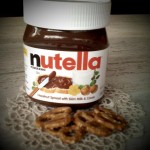 Lisa Waddle of This Needlework of Mine draws an interesting connection between Nutella and Old Lace. Lisa focuses on Nutella's home base in Piemonte to find a link. Creative! Grazie Lisa!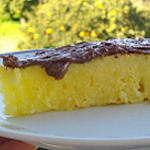 Cherrye of My Bella Vita sent in an Orange Nutella Cake made by her darling husband Peppe; the couple also helped their Il Cedro B&B guests celebrate with a slice of cake and little Nutella gift packs for when they felt peckish throughout the day. Thanks Cherrye and Peppe!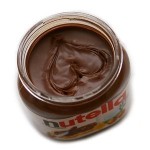 Sandra of Sandra dans tous ses etats waxes poetic (in French) about her "histoire d'amour" with Nutella in World Nutella Day 2010; my French isn't great, but a love history with Nutella translates well in any language. Merci beaucoup Sandra!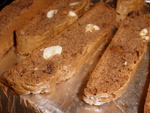 Marika of Strawberry/Maasikas joins us for the first time this year with some delicious looking Nutella biscotti; she also shares a great idea of a grilled Nutella sandwich with goat cheese. You know she's after this girl's caprine heart! Thanks Marika!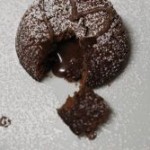 Chris of Mele Cotte, one of most faithful Nutella Day participants, sent in Nutella Molten Cakes with Nutella Crackers. This looks absolutely sinful, Chris, and that's exactly what I love about it. Yum! Grazie!
Teresa of tcalo contributes Licor de Nutella and Torta. Yes, the recipe is in Spanish, but it looks to me like that liqueur has Nutella, milk, alcohol, water, sugar, vanilla, and cinnamon. Um, ¿Cómo se dice WOW en español? Gracias Teresa!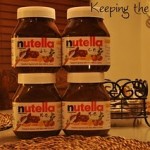 Angela Pea of Keeping the Faith talks about her brilliant system for keeping the peace between the four teenage lovers of Nutella in her house…each gets their own jar, marked with their initials. Love it! Thanks Angela!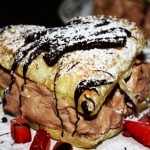 Denise of Cottage Sisters shares Hailee's Nutella Strawberry Dream, and boy is it ever dreamy: puffed pastry, Nutella, strawberries, whipped cream, chocolate chips, and a dusting of powdered sugar. I'm in! Thanks so much Denise!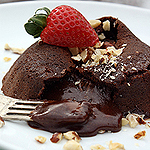 Paula Jones of bell'alimento is such a Nutella lover, she runs a monthly Nutella Challenge. Paula contributes the amazing Chocolate Nutella Molten Lava Cake, but she warns, "It's an insanely DECADENT cake! I'm talking sugar coma levels of decadent, so I suggest you share one with your sweetie!" Great for Valentine's Day too! Grazie mille Paula!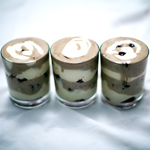 Karin at Food for Angels and Devils (love the name!) has sent in Cherry Nutella Tiramisu. What is not to love in this creation? It's based on strawberry tiramisu, so you can feel free to play with your favorite fruit. Individually prepared servings is always such a nice touch to the end of a dinner party, don't you think? Thanks Karin!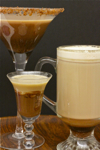 Cathy Shambley of ShowFoodChef shows us adults how to really enjoy Nutella. OK, get your head out of the gutter! We're only talking cocktails: Nutella cocktails *three* different ways! I'm not going to give too much away, but let's just say if you like martinis, coffee, or raspberry vodka, you might want to run over there. Thanks Cathy!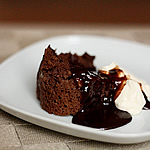 Sheryl of Crispy Waffle sent in, no, not Nutella with waffles. Welcome to the world of Nutella steamed pudding! Have you ever made a steamed pudding, a cake that's steamed not baked? I haven't. Looks like a great to try. Thanks Sheryl!
Cinzia of the blog Cindystar sent in her creation of Nutella slathered between two traditional Argentine biscuits called alfajores; she writes in both Italian and English, so don't let the language stop you! Grazie Cinzia!
Elizabeth of Life in La Città del Roses submitted Nutella Olive Oil cupcakes, combining some of Italy's most favorite flavors. There is also an icing recipe included. These looks delicious! Grazie Elizabeth!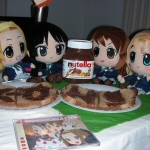 Jo-Ryan Salazar writes the blog Bedlam on Baltic Avenue, and it's safe to say things got a little nutty with Ritsu, Mio, Yui, and Tsumugi on World Nutella Day. Join the fun as they figure out what to do with the jar of Nutella that appears before them. Thanks Jo-Ryan!
Laura Frunza comes to us from Romania with her blog, Ideas for mommies and children. She wrote the intro in her native tongue for her regular readers, but the rest is in English for all of us to enjoy her recipe for Nutella muffins. Thanks so much Laura!
Rianne of the Art of Dessert has contributed her Nutella Marshmallow Mousse, which I think would make for another excellent Valentine's Day dessert; Rianne's post is all about love, in fact, as she describes when she discovered Nutella in a crepe in Paris on her honeymoon. *swoon* Thanks Rianne!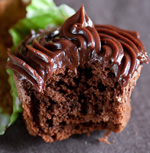 The ever-lovely Ilva of Lucullian Delights sent in her Chocolate and Chickpea Cupcakes with Nutella and Sour Cream Frosting, which also happen to be gluten-free. Actually Ilva made two versions–one with candied peel and Grand Marnier. Both look fabulous! Grazie Ilva!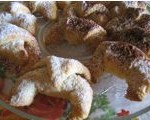 Another fellow expat in Italy is Marla of Bella Baita View who contributes her Nutella cornetti. As Marla finds herself in Piemonte, the birthplace of Nutella, she often treats her B&B guests to these little Nutella cornetti. They look wonderful; grazie Marla!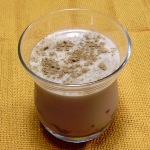 Renato Moraes of Sugar Nut has shared with us his unique take on the traditional Brandy Alexander. Yes, you guessed it! You can now enjoy a Nutellaxander courtesy of Renato in Brazil. There's even Frangelico in there! Mmmm….Obrigado Renato!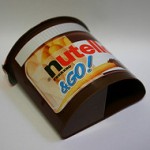 City Girl at City Girl Lifestyle managed to get her entry in despite technical difficulties and snow that threatened to leave her stranded in Switzerland, where she was visiting family. But her love for Nutella was too strong, and she shares with us her latest, wonderful Nutella discovery. Thanks City Girl!
Nic of Cherrapeno is speaking to my salty/sweet loving self with Chocolate Covered Ritz Crackers Filled with Nutella and Peanut Butter. I don't know about you, but these look like an amazing snack to have with, say, Nutella hot chocolate or something. Thanks so much Nic!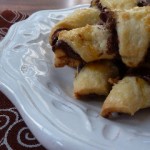 Karen of Mignardise writes about her excuse to eat Nutella "like I need one." I can definitely relate! Karen shares her recipe for Nutella and toasted hazelnut rugelach, which look, in a word, "nomnomnom." Merci beaucoup Karen!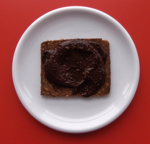 Caffettiera of the blog La caffettiera rosa whipped up some Very Dark Nutella Curd for those of you who want to make a dark chocolate-hazelnut curd. The directions are great and really comprehensive (and in English), so if you've always wanted Nutella-ish curd, this is where you should go. Grazie Caffettiera!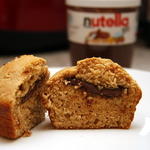 Rebecca of Above an Italian Restaurant shares her recipe for Peanut Butter and Nutella muffins. People often talk about the competition between peanut butter and Nutella; I'm with you, Rebecca. Slam them together and make them love each other! Thanks!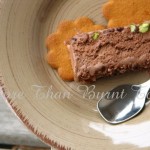 Bellini Valli from More Than Burnt Toast has sent in her version of a Chocolate Nutella Semifreddo. With pistachios, white chocolate, and Frangelico among the other ingredients, this semifreddo calls to me even though it's pretty darn cold out right now. Grazie!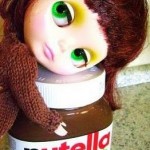 Adriana Oliveira of Nada contra o verso shares a heartwarming story of how Nutella played a role in her reuniting with an Italian friend from her childhood. The post is in Portuguese, but Adriana kindly sent us a translation, which I've pasted in the comments at her blog so you English speakers can share the love. I *highly* recommend heading over there for some warm fuzzies. Obrigada Adriana!
Barbara of Barbara Bakes sent in her recipe for Nutella Candy Bar Cookies. Hello? Those are three of my most favorite things in the world. And with the Valentine's Day colored M & Ms on top, you know what I'm thinking this would be great for….thanks Barbara!
Catherine of Pursuing Domestic Goddess-ness is doing a postdoc in a lab studying diabetes; one might say she took her work home with her by celebrating Nutella for a full week of celebrations! Hah! Seriously, we love all of your creations (*do* go check out all five, readers!), but yes, those Vanilla Nutella-Swirl Cupcakes with Nutella Buttercream Frosting look truly fantastic. Thanks so much for all your enthusiasm Catherine!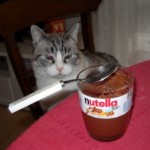 Rodolfo Cappuccino, also known as Fra'Puccino has joined the festivities via his blog E' scientificamente dimostrato, which is "devoted to love problems, cinema, and every world or international day declared in the world." Love it! Fra'Puccino got his readers talking about Nutella; those who can read Italian, be sure to check out all the great comments!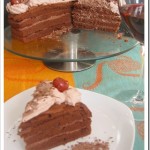 Sonia, also known as Sunflowers8 blogs at Oggi Pane e Salame, Domani… and for World Nutella Day whipped up a rather amazing looking Torta alla crema di ricotta, Nutella e cioccolato fondente. Even if you don't read Italian, this is worth a look-see. It has several *layers* people! Grazie mille Sonia!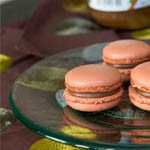 Trinidad of les petits plats de trinidad made what I personally believe should become France's new national dessert: macarons au Nutella. Yes, the French have perfected the Nutella crepe, but there's room for these, right? Merci beaucoup Trinidad!
Browniegirl of Kitchen Diary submitted her Nutella and Date Cupcakes with Meringue Buttercream Frosting. I *love* dates, so I'm happy to see them make an appearance here. Browniegirl describes these as "absolutely sinfully decadently divine," and I have no reason to doubt that. Thanks Browniegirl!
Lauren Kirsten of the blog life! shares with us her love of Nutella as she encourages all Nutella lovers of the world to unite! She shares how she first met Nutella in Rome and how she will soon be the proud owner of Nutella cappuccino cups as she's collected the appropriate number of gold seals. Congratulations, and thanks for participating!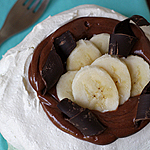 Rachael of La Fuji Mama created Pavlova with Nutella Mousse, which she quickly identified as one of her very finest creations thus far. And I can definitely understand why. They are "delicate meringue pillows," Fuji Mama writes, "topped with rich silky Nutella mousse, and studded with thinly sliced bananas and dark dark chocolate curls." Yes, yes, and yes. Also? The photos of her daughter are beyond precious. Thanks Rachael!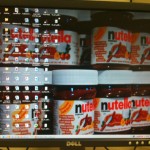 Wil Grant of Wil's Blog shows his love for Nutella with few words ("Nutella is truly the greatest substance in the Universe. Let's Celebrate by constantly reminding ourselves :D") but a photo that really says it all. Yes, that's his computer screen on the left. Thanks Wil!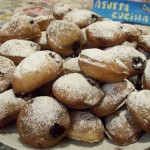 Speedy70 of A Tutta Cucina sent in these lovely Bomboloni alla Nutella. I love the addition of lemon zest in the dough. If you can read Italian, by the way, Speedy70 is a very prolific blogger with recipes coming all the time. Complimenti…e grazie!
Giusy Somma of gliamorididida (say that five times fast!) sent in this gorgeous Tortina Nutellosa Artigianale. Yes, another recipe for Nutella! The cake looks wonderful, as does this blog full of gorgeous recipes–and not just sweets. I saw zucchini and shrimp just at a quick glance down the page; I'm looking forward to reading more! Grazie Giusy!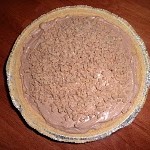 Maria of Mange, Fille contributes this Easy Toffee Nutella Pie. As Maria explains in the post–and I completely agree with–even for those who don't love Nutella "straight" should really try some of these recipes as the flavor is lightened and/or slightly different in the finished products. Excellent point, Maria! Thank you!
Sonia of La Dolce Vita shares how much fun she has with Nutella year round; I'm completely with you on the set of drinking glasses Sonia! For those who don't know, in Italy, Nutella comes in reusable glasses usually with characters on them. This year, Sonia had one of my common treats around here: bread, nutella, bananas, and Nutella hot chocolate. Grazie Sonia!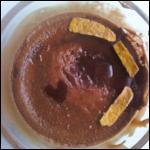 Kurious Kitteh of Kurious Kitteh Kooks! has shared Nutella Mud Puddles, which I think is an adorable name for these treats. I'd keep it, KK! Also, look at that little heart there in the ramekin! Nutella love abounds, or as the Kitteh wrote, "The World is Smothered in a Blanket of Nutella Love." Indeed. Thanks Kurious Kitteh!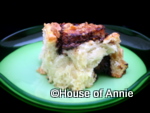 Nate at the House of Annie had a bit of a no-knead baking disaster with this Nutella brioche, but the love of Nutella remained unscathed. Phew! Big props to Nate for sending in the Nutella entry anyway and for giving no-knead not one, not two, but three chances to wow. That's more than anyone can ask, Nate. Thank you!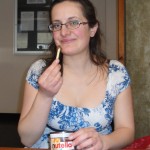 Katie of Katie's Pau Life en France talks about her earliest memories of Nutella (which, oddly, her mother seems to think she made up!), and also shares with us how she celebrated this year's glorious day–with both Nutella hot chocolate and a Nutella & Go back, as pictured here. Thanks Katie!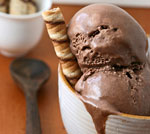 Susan of Sticky, Gooey, Creamy, Chewy always has something wonderful for World Nutella Day and this year is no different. Check out this Super Simple Nutella Ice Cream, and if it's too cold where you live now to try this, bookmark it. I can't think of a better way to celebrate that first heat wave of the summer. Or, you know, first bird chirping in the spring.  Whatever you wish. Thanks Susan!
Miss Kin of Teorias da Nuvem shares a beautifully intriguing image of Nutella enjoyment. See, even if you blog anonymously, you can still show your love for Nutella! Obrigada Miss Kin!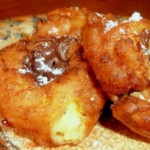 Michele at Our Italian Table contributes Nutella-Filled Grand Marnier Ricotta Fritters, her special Nutella take on her mom's fritters. Oh wow. These sound *so* delicious! I love orange and chocolate together, and well, ricotta goes with anything in my book. Grazie Michele!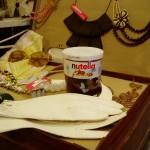 Valerie Caruso, who blogs at Living Out of the Box,  is a recent transplant to Italy, here to study wine expertise at a culinary institute. Turns out she also found a love of Nutella, and to prove it, she's taken a jar on a tour on Florence. Love this, and love that Nutella Day has brought my attention to another blogger I can't wait to get to know better. Grazie Valerie! E piacere!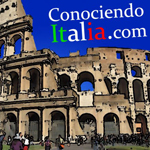 Dabart of Conociendo Italia sent in a wonderful Nutella tribute complete with photos of a Nutelleria (yes, they *do* exist!) and a recipe (in Spanish) for Ravioles Rellenos con Nutella, Mascarpone y Coco. Yes, again, I believe that translates to YUM in any language. Thanks so much for participating–and I love that button you've created! Gracias Dabart!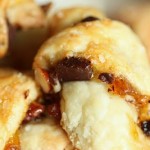 Paula of Half Baked sent in her Nutella-filled rugelach and asks, "Who needs dinner when you can eat rugelach?" I'm so with you, Paula. A fabulous dessert can take the place of my dinner any day of the week and twice on Sunday. Or something like that. Thanks Paula!

Gillian Gutenberg of Ultra Fine Food sadly finds Nutella ridiculously expensive in Argentina, but that doesn't make her love for it any less; she joined in the fun with us anyway and noted that if someone handed her a slice of bread with Nutella, she wouldn't complain. Maybe you'll have a Nutella fairy visit you? Thanks Gillian!
Olcik of Internetowa cukierenka Olcik shares her Nutella sandwich with banana and also some really adorable photos of Nutella; Olcik's blog is in Polish, which I don't speak, but I can tell from her photos that she's a fun gal. Dzi?kuj? Olcik! (I hope I didn't just call your mother a nasty name or something!)
Michelle over at Nep's Blog celebrated Nutella Day with a spoon (as did many of us) but will also be posting a recipe for Nutella sorbet in the near future, so stay tuned! Here's a photo of Michelle's desktop on World Nutella Day…looks tasty! Thanks Michelle!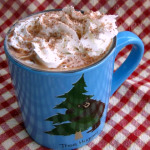 Michelle of One Ordinary Day sent in this delicious Nutella mocha hot chocolate, and she's also included links to previous Nutella recipes she's posted. Michelle says she's relatively new to Nutella, but you'd never know it from these creations. Thanks Michelle!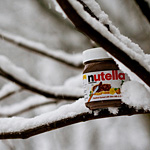 Ramune of every.seven is definitely in the running for the most unique Nutella placement…in the snow! In a tree! Love this photo, Ramune, which reminds me of a Nutella tip for everyone: if your Nutella hardens up and isn't spreadable (from the cold–which is why you shouldn't refrigerate it!), put it in a pan of hot water until it's spreadable again. Thanks Ramune!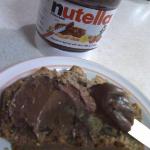 The next contribution is from lynne who blogs at a malaysian abroad and shares a most excellent idea for Nutella: as an accompaniment to banana spice bread. Childhood memories of Nutella are also sprinkled about lynne's post, letting us learn a little more about lynne–born in Malaysia, raised partially in Switzerland, and now living in the U.S. Thanks lynne!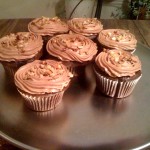 Margaret Adamek doesn't have a blog, but that didn't stop her from choosing a recipe from the NutellaDay.com site and whipping them up. Check out those Dark Chocolate Cupcakes with Nutella Icing over there; according to Margaret, "Everyone loved the moist cake and yummy fluffy icing." Thanks Margaret!
Deeba of Passionate About Baking always has wonderful recipes, but she really turns it up for Nutella Day. This year it's Mini Chocolate Cakes with Nutella, Mascarpone and Fresh Fruit. Just. Wow. Love this, and I'm not just saying that because there's coffee in the recipe (but it helps). Hah! Thanks so much Deeba!
Sheena, who blogs at The Casual Baker, made Nutella Crater Cookies, and they look like I'd really have a hard time not eating them all in one sitting. There are only six ingredients involved, so there's really no excuse not to make these. Dammit. Thanks Sheena!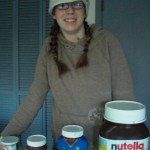 Katie Robertson of And you thought you were wonder woman really loves Nutella. No, she *really* loves Nutella. See that huuuge jar there? That's one full kilo of Nutella that Katie transported from Italy to Argentina, which, as we've discussed has a severe lack of Nutella. We really should talk to Ferrero, shouldn't we? Thanks Katie!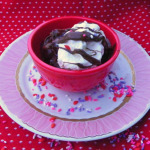 Donna Diegel of Spatulas, Corkscrews, & Suitcases sent in her "warm and cozy Nutella Hot Fudge Pudding Cake with fresh whipped cream." That looks so wonderful! Be sure to check out Donna's other Nutella recipes while you're there–she's a repeat Nutella Day offender, erm, participant. Thanks Donna!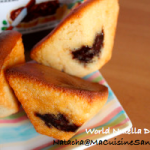 Natacha of Ma Cuisine Sans Gluten contributes Pyramide fondante et fourrée au Nutella. The recipe is in French, but again, the photos will speak to you no matter what language(s) you know. Chez Natacha looks like an excellent place to hang around indeed. Merci beaucoup Natacha!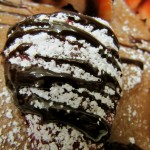 Kate of Not Just Vanilla got into the spirit of Nutella Day by posting Nutella Mousse with Strawberries and warning that "[w]orld domination is not far away for Nutella!" I think you may be on to something, Kate…it has allegedly invaded over 75 countries now! Thanks Kate!
Marisa of Sparkle & Reflect made some homemade Nutella crepes based on her fiance's mother's recipe. They were delicious and ready in 15 minutes, writes Marisa, and they kept the Italian feeling going by watching Fellini's Roma. Sounds great to me! Grazie Marisa!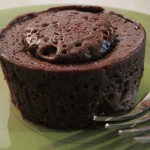 Elizabeth of Confessions of a Reservationist created an entire menu of Nutella treats including Nutella dipped fortune cookies, grilled Nutella and banana sandwich, and this gorgeous Mug Nutella Chocolate Cake. Truly excellent work, Elizabeth! Thanks so much!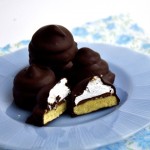 Tami of Lemon Tart shares these adorable, surely delicious Nutella Marshmallow Cookies. Marshmallow is definitely one of my guilty pleasures, and Tami even threw in some tangerine zest with the cookie dough, so yes, this cookies is definitely a huge winner for me. Thanks Tami!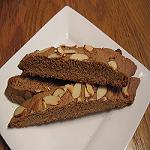 Lisa of Stop and Smell the Chocolates contributes these Nutella biscotti. Lisa has great step by step instructions and photos, which I think is *uber* helpful with biscotti especially. Plus, how cute is Lisa's blog design? Check it out! Thanks Lisa!
SomePinkFlowers helped us celebrate World Nutella Day by recalling her first meeting with the chocolaty hazelnut spread in France and recounts her joy when she finally discovered Nutella closer to her home in Florida. "Happy day!" sums it up well. Thanks SPF!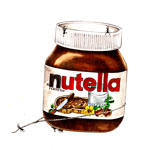 The photo you see at the left looks an awful lot like a jar of Nutella, but it's actually a really amazing illustration by Antonella Clemenzi of Antonella's Portfolio. It's so life-like, you just want to dive in with a spoon, don't you? Grazie Antonella!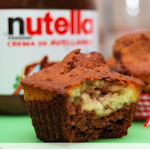 Zorra of 1x umruehren bitte aka kochtopf sent in these Marble Muffins; she got the inspiration while making a regular chocolate marble cake, and I definitely agree with you, Zorra…why not Nutella? Danke schön Zorra!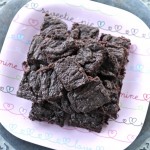 Denise and Laudalino of Chez Us passed along their recipe for Nutella Brownies, "the ultimate chewy brownie." I love me a chewy brownie, and I'll definitely be trying these. Added bonus? They were a huge hit with the under 10 crowd at a party. No surprise there! Thanks Chez Us!
And last but certainly not least, a recipe sent to me by a very sweet Facebook friend of mine, Carole who blogs at Cybercook's Cooking Corner:
Chocolate Hazelnut Latte
1/2  cup  chocolate hazelnut spread , divided use (Nutella, etc)
1/2  cup  heavy cream, divided use
32 ounces  brewed, hot hazelnut coffee (decaf if you have it), divided use
1/2 cup heavy cream, whipped to stiff peaks (divided use)
2  tablespoons hazelnuts, finely chopped
In each of four (4) 10-12 ounce mugs, combine 2 tablespoons of hazelnut spread with 2 tablespoons of heavy cream.  Mix the contents of each mug until the mixture is smooth and well blended.  Pour 8 ounces of coffee into each mug; stir until well blended.  Top each mug with a dollop of whipped cream and a sprinkling of chopped hazelnuts.
Serve immediately.
OK, now…who wants Nutella?
Thanks so much to everyone who contributed to this year's World Nutella Day celebrations! If we've missed you, please do let us know so we can get you in the round-up.
Buona Nutella a tutti!
---
---
---
---