It's here! It's here! Happy World Nutella Day!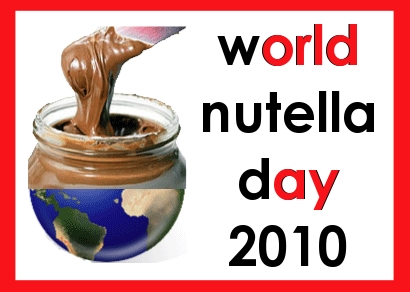 Before I get to my recipe, be sure to check out my co-host Sara's Nutella and Mascarpone Cream Chocolate Tarts at Ms Adventures in Italy–and remember we'll be posting the round-up of ALL 2010 World Nutella Day recipes on our blogs on Monday. Be sure to come back!
This year, since my frozen overripe banana collection is getting a bit out of hand, I decided to play with a brownie recipe for World Nutella Day: a banana-chocolate chip brownie recipe to be exact.
You could certainly still throw the chips in here, but I wanted the Nutella to really shine, so I left them out.
I think next time I make this, though, I might add just a bit of espresso…mmmm….
These came out rather cakey, but not crumbly at all. I'm not sure if this is the way they're supposed to be or not; my oven doesn't have a temperature dial, so I have to guestimate, and that may have changed things a bit. Either way, they were delicious!
Banana Nutella Brownies
3/4 cup butter (melted)

2/3 cup brown sugar

2/3 cup white sugar

1 1/2 tsp vanilla

3 ripe bananas, mashed

1 egg

2 cups flour

2 tsp baking powder

Nutella to taste
1. In a large mixing bowl, cream butter into sugars.
2. Add vanilla, egg, and bananas.
3. Add flour and baking powder.
4. Spread mixture into a greased 13 x 9 inch pan.
5. Swirl Nutella into top of mixture. I didn't use any particular technique other than swirling it around with a knife. Martha Stewart would've been appalled, I'm sure.
6. Bake at 350°F for 35 minutes or until center springs back to the touch and edges are just turning golden.
Buon appetito!
37 Beans of Wisdom to "Banana Nutella Brownies: Buon World Nutella Day 2010!"
---