**World Nutella Day Celebrates 5th Anniversary on February 5, 2011**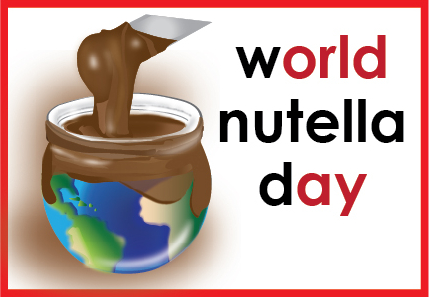 To get you all a little, ahem, in the mood for World Nutella Day, I've come up with the:
Top 10 Reasons Nutella Is Better Than a Boyfriend
10. He's always interested in spooning.
9. He doesn't care if you're wearing make-up…heck he doesn't even care if you're clean.
8. When you decide you're finished, you just put a lid on him and put him in the cupboard.
7. He doesn't care how many Nutella jars you have open at the same time.
6. He'll watch all your favorite shows, listen to your feelings, *and* provide chocolate.
5. He always lets you take the lead.
4. You don't have to feel guilty about leaving Nutella at home to fend for himself.
3. He's always, always, always sweet.
2. He'll never ask you whether your last Nutella jar was bigger.
And the #1 reason Nutella is better than a boyfriend:
1. He satisfies your craving. Each. And. Every. Time.
I'm going to leave the "Top 10 Reasons Nutella Is Better Than a Girlfriend" to the other half of the Nutella-loving population, so if anyone out there is so inclined, feel free to post it and let me know! Also, everyone feel free to add your reasons why Nutella is better than a boyfriend/girlfriend here in the comments.
It's almost here! February 5th is coming so fast!
31 Beans of Wisdom to "Top 10 Reasons Nutella Is Better Than a Boyfriend"
---