Well, Mom is on her way home to the US and the last Palermonday is upon us. A sad day all around, but let's try to liven things up around here with . . .
The Capuchin Catacombs of Palermo!
(cannoli not included)
I saved the Capuchin Catacombs (Catacombe dei Cappuccini) for last because they were my favorite spot on our quick jaunt through Sicily. Since I've always been fascinated by and drawn to cemeteries (so peaceful and comforting), I knew I'd love the catacombs. And I did.
For those who don't know, catacombs are underground burial crypts and the Capuchins' version in Palermo is outstanding. The Capuchins, by the way, are an order of Franciscan friars (Order of Friars Minor Capuchin) who wear brown hooded robes. For a little word origin fun, "hood" in Italian is "cappuccio" and the diminutive ("little hood") is "cappuccino."
And yes, that is where my favorite drink gets its name; some believe that Marco d'Aviano, a Capuchin friar, invented the drink in the 17th century, but others say the frothy milk and coffee mixture simply resembles the brown, pointed hooded robe.
Whatever the Capuchins' contribution to beverage history, they sure left behind something spectacular in Piazza Cappuccini between Via Pindemonte and Corso Calatafimi in Palermo.
Even on a Sunday in February when we visited, there was quite a crowd waiting to get in when the catacombs reopened at 3 pm after unch. A sweet, white-bearded monk took our coins, and we followed the crowd down some steps and through a corridor, cooler air hitting our faces with every step.
The first glance inside was simply amazing.
There are about 8,000 bodies down there, lining the walls, lying on shelves, hanging upright, some posed in chairs, etc. There are sections for men, women (children included), professionals, priests and even virgins, pictured at left; you just need to follow the arrows to hit every part of the underground maze, although Cherrye and I went through backwards to avoid the flow of (living) people.
How did all these bodies get down here? Well, toward the end of the 16th century, burial space for monks was scarce, so in 1599, the first monk was buried underground and the remains of a few other monks were moved there. The spot started out exclusively for monks, but the Order began receiving special requests from benefactors to be buried there as well.
Permission had to be granted by the High Prelates and the General Superiors of the Order until 1739, and thereafter by the Superiors of the Convent; it certainly must have been quite an honor to be included among such Palermitani.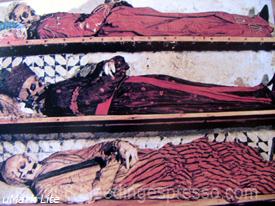 Many of the clothes placed on the corpses are still in fairly good condition and walking through the catacombs can be kind of an eerie historical fashion show–religious robes, military uniforms, housewives' attire, children's best from the 17th century through the beginning of the 20th.
There is just so much history in this relatively small space; I only wished there were more information on each individual corpse, much like I wish more tombstones and markers in cemeteries told fuller stories. But how much can you really fit on a marker, I guess?
So many of the bodies were so lifelike; I could just imagine them laughing, talking, joking, arguing, you know, living.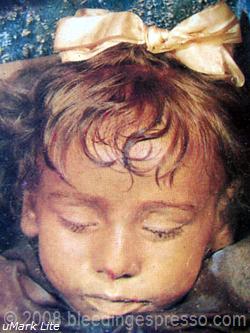 The best preserved is little, gorgeous Rosalia Lombardo, at left, who died in 1920 and was one of the last laid to rest in the catacombs.
Dr. Solafia, a doctor from Palermo, embalmed her, but to this day his method remains a secret; whatever he used, the results are spectacular. Rosalia looks like she is sleeping, taking an afternoon nap after a long morning of running around under the Sicilian sun.
Other preservation methods included arsenic, lime or vinegar.
I don't know that I'd ever want tourists rushing past my dead body trying to sneak photos (for the record, you're not supposed to take any and I didn't; the photos in this post are all photos of the brochure), but I am *so* very honored we got to spend some time underground with these old souls.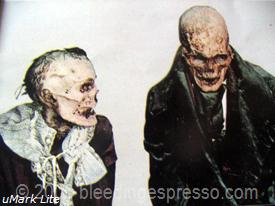 In fact, Cherrye and I definitely spent much more time in there than others who rushed in beside us.
I'm not sure there was even anyone left down there when we finally made our way out to pick up some brochures and say good-bye to the elderly monk as he sat behind his small basket of coins saying daily prayers under his breath.
I hope you enjoyed our stay in Sicily! If you missed any in the series, please check out the posts in the Palermondays and Sicily categories.
39 Beans of Wisdom to "Capuchin Catacombs in Palermo, Sicily"
---