Welcome back to Palermonday! This week we're moving on the gardens of Palermo.
Palermo once had so many public gardens and parks, it was known as the "Garden City." Cherrye and I only got to see two of them as discussed below, but you can read about the other gardens here and here.
Villa Garibaldi was very close to where we stayed near the end of Corso Vittorio Emanuele and the harbor. It was designed by architect Giovan Battista Filippo Basile between 1861 and 1864 in Piazza Marina, which had been used for Aragonese weddings, victory celebrations, and, unfortunately, public executions.
Nearby is Palazzo Chiaramonte (the seat of Palermo University), Palazzo Galletti, Palazzo Villarosa, the Chiesa di Santa Maria dei Miracoli, and Palazzo Fatta. There is also a free theater (Teatro Libero) in the square.
The gardens surrounding Villa Garibaldi are definitely intriguing, partially because the area always seemed kind of dark even in sunlight. There were always plenty of people, though, even a photo shoot for some kind of family celebration and lots of dogwalkers (and dogs, of course).
Some of the most interesting features inside the park are the exotic plants, in particular the Ficus magnoliodes–creepy as all get out and one of the largest in Italy.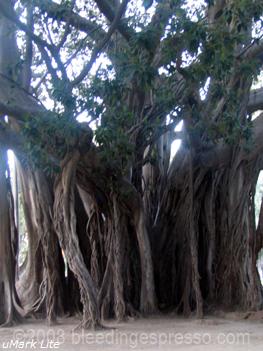 Also in Villa Garabaldi is a memorial for Joe Petrosino, the NY police officer who was killed in Piazza Marina while in Palermo fighting organized crime; we saw the memorial on our way to the hotel the first day, but I forgot to go back and take a photo. This one will have to do until I get back there.
The other gardens we visited briefly were at Villa Bonanno in the middle of the city, not too far from the Porta Nuova. Villa Bonanno is behind Palazzo dei Normanni and the gardens' main attraction is an enormous statue of Philip V of the House of Bourbon.
Honestly, Cherrye and I *could have* seen more of Villa Bonanno, but we were tuckered out by that point and used the fabulous scenery, e.g.,
as a backdrop for our afternoon riposo before we took on the famed Capuchin Catacombs . . . which I'll tell you all about next Palermonday!
16 Beans of Wisdom to "Gardens of Palermo: Villa Garibaldi & Villa Bonanno"
---