It's Palermonday again!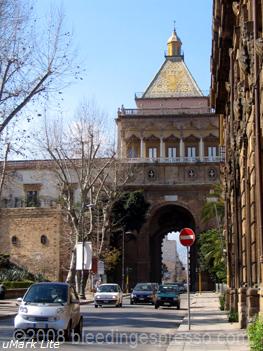 After visiting Teatro Massimo, La Fontana della Vergogna, and Quattro Canti, we're now continuing along on Corso Vittorio Emanuele through la Porta Nuova (left) in Palermo.
This is one of my favorite photos of Palermo. I love how it captures the history, the hustle and bustle of the city, and even a Smart car–essential for any European street scene.
Plus I'm pretty proud of myself for not caring that I looked like a total tourist while stopping on that tiny sidewalk (believe me, the photo makes it look *gigantic* compared to the reality), burning my eyes looking into the strong midday sun, and snapping away.
I used to have issues with that, but I'm apparently past them.
The original Porta Nuova was built in 1583 to commemorate the victory of Charles V (known as Carlo V in Italy) over the Turks, but was destroyed in an explosion in 1667. Two years later, architect Gaspare Guercio redid the entrance to the city, adding a majolica-tiled pyramid with an eagle on the top (as always, click on photos to enlarge):
For centuries, Porta Nuova was the most important entry way into the city of Palermo, but Cherrye and I had a few moments of doubt as to whether we could actually pass through it on foot and continue along Corso Vittorio Emanuele without taking a detour.
We are living proof that you can indeed walk through the Porta Nuova.
Sure, it's against traffic, but don't worry, it opens up a bit inside to about the same width as the sidewalk outside. In fact, I felt safe enough to stop and take a photo of the inside of Porta Nuova, something you're not going to find just anywhere:
Adjacent to the Porta Nuova is the Palazzo dei Normanni, the seat of the Regional Parliament in Sicily and also home of the Cappella Palatina, the royal chapel of the Norman kings of Sicily and one of the most beautiful and impressive sites in all of Palermo.
Or so we've been told.
It was closed the day we were there, which means we have yet another reason to return to this beautiful city.
On to the Duomo next Palermonday!
12 Beans of Wisdom to "La Porta Nuova in Palermo, Sicily"
---