***Be sure to check out NutellaDay.com for the most up-to-date info!***
Well you had to know that a What's Cooking Wednesday recipe with Nutella was coming up . . . World Nutella Day 2008 is less than a week away!
Don't forget to post your entry on your blog and send the link and photo to nutelladay [at] nutelladay [dot] com by February 4th to be included in the big round-up!
Yesterday my co-host of World Nutella Day 2008 Sara of Ms. Adventures in Italy posted her experiment with Nutella and a variety of fruits. Go see Sara's recommendations on which fruits "go" with Nutella and which are, ahem, better off as just friends.
Sara's post got me thinking about my own World Nutella Day contribution from last year, which was a very understated slice of banana on a Nutella-coated cracker sprinkled with nutmeg.
I wanted to bake something this year but I still love that banana and Nutella combination, so I turned to my trusty Louise's Banana Cake recipe that I posted a while back and kicked it up a notch. With Nutella, of course.
Banana & Nutella Cake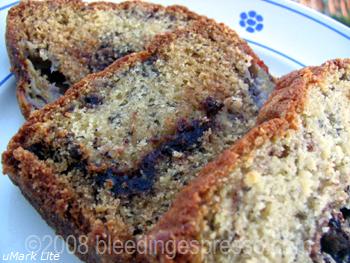 1 c mashed bananas (2 medium, overripe)
1 1/2 c sugar
1 c vegetable shortening
3 eggs
3 c flour
1 tsp salt
1 tsp baking powder
1 1/2 tsp baking soda
1/2 c sour milk (add 2 tbsp of lemon juice or vinegar to sour it)
1 1/2 tsp vanilla
1 c chopped nuts (optional)
1 small jar of Nutella (drinking glass size!)
Mash bananas and set aside.
Mix together sugar and shortening, and then add eggs and beat until pale yellow.
Mix together the dry ingredients, and then add them to the sugar/shortening mixture, alternating with sour milk and vanilla. Batter will be thick.
Add bananas and the nuts if you're using them, and beat until blended.
With this batter, I made a loaf cake and about 20 mini-cupcakes. First I filled half the loaf pan with batter and then spooned Nutella length-wise down the middle, swirling it with a toothpick as such:
Then I poured more batter on top until the pan was 3/4 full and repeated the Nutella swirling process again. FYI, this used up about half the jar of Nutella. If you like more Nutella in there, by all means, go right ahead and swirl away!
For the mini-cupcakes, I filled the cups 3/4 full and then put a dollop of Nutella on top and swirled it around così:
Bake at 325°F (162°C).
If baking a 13 x9 cake, it should take about 45 minutes; my loaf pan took about 45 minutes as well. The mini-cupcakes took about 20 minutes at this temperature, but always be sure to test–remove when the tops springs back from the touch and/or when a toothpick inserted in the center comes out clean.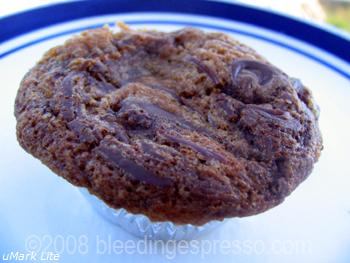 Buon appetito and remember to send your World Nutella Day entries to nutelladay [at] nutelladay [dot] com by February 4th to be included in the round-up!
—————
[tags]nutella, nutella day, banana cake, recipes, baking, what's cooking wednesday, bananas[/tags]
36 Beans of Wisdom to "Banana & Nutella Cake for World Nutella Day 2008"
---