Summer's here! Luna says, "Mamma mia, fa caldo!"
It's hot. This means that cooking during the day is ill-advised, so our usual lunchtime pasta course often finds its place in the evenings (unless I've made a lovely summer pasta salad). But a requirement is still that it must be fast and easy; it cools down in the evenings, but not that much.
So this week's What's Cooking Wednesday is one of our summer favorites, a seasonal salsa with fresh tomato and basil–quite possibly my most favorite dish in the whole world. I can't possibly overstate my love for basil, so you'll be seeing a lot more of it around these parts, I promise.
I'm leaving the "pasta" here in the general term as we've had this dish in the past few days with penne and with linguine (as shown in the photos).
Always delicious.
Pasta with Fresh Tomato & Basil
(Pasta con pomodori e basilico)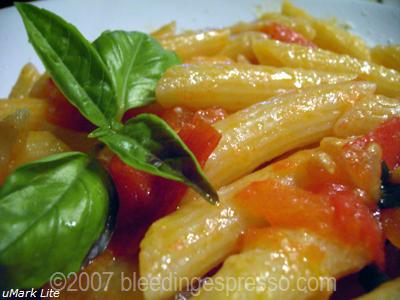 4 tbl olive oil
1 small sweet onion, chopped
3 small cloves garlic, crushed
2-3 large, ripe tomatoes, chopped coarsely
8 large basil leaves
1/4 cup water
salt to taste
1. Put water on to boil for the pasta of your choice.
2. Heat olive oil in a saucepan over medium heat and then add onion and garlic. Cook for a few minutes until onions are translucent and garlic is just starting to brown–don't let it brown though.
3. Tear 6 of the basil leaves and stir into the mix.
4. Add tomatoes and salt, and mix everything well.
5. Add water periodically if sauce begins to look too dry (depends on how juicy your tomatoes are).
6. Let cook for about 15-20 minutes on medium-high heat, and with about 5 minutes to go add the rest of the basil.
7. In the meantime, once the water is boiling, prepare the pasta; everything should be ready at about the same time.
8. Toss the pasta with the salsa, coating it well, and serve hot with a sprinkling of grated cheese on top (and peperoncini on the side if you like it spicy).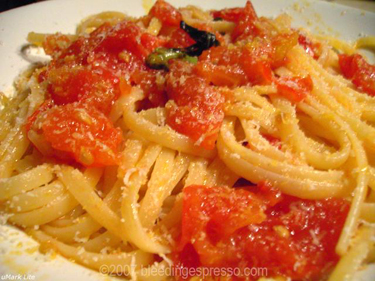 Buon appetito!
40 Beans of Wisdom to "What's Cooking Wednesday: Pasta with Fresh Tomato and Basil"
---