Archive for the 'puppy love' Category
---
---
Loyal readers may have seen "Stella" in the post title and thought of my adorable pooch: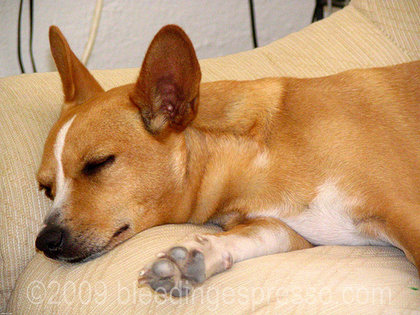 But today we're back to talking books, in particular, up and coming Scottish author Colin Galbraith's new paranormal mystery, Stella, available as both an e-book and paperback as of June 7th: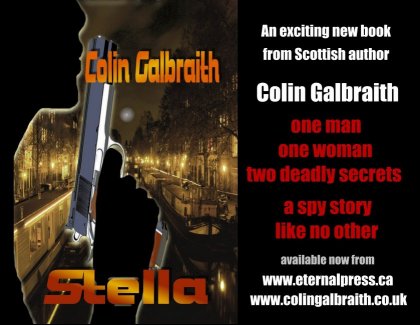 And, since it's been a while since we've had a contest, how'd you like to win your own copy?
Comment on this post by next Friday, July 3, 2009 by 11:59 p.m. (Italy time) to be eligible to win a copy of Stella. If you win, you can choose either the paperback or e-book version. Winner will be announced Sunday, July 5, 2009.
What's Stella all about?
Randolph Lowe is a distinguished British Secret Agent in the twilight of his career. When he is handed a mission to kill one of the world's least accessible, yet most wanted assassins, he never expected a beautiful young woman with the alias, STELLA.
Stella leads him around the world as she picks off her marks with ease, during which time Randolph grows infatuated and falls in love.
But Stella has her own dark secret. Forced into making a terrible sacrifice, she is destined to live her life as a lone killer.
The love of one man may be enough to free her, and only that man can save her now… but only if he can find her….
——-
Mystery. Intrigue. International spy games. Paranormal. Love. What's not to enjoy about this book?
I haven't read it yet, but I will very soon. Sounds like a great summer read with a fast pace and lots of twists and turns. Plus I always enjoy the paranormal thrown in….
Perhaps you're wondering about the author?
Colin Galbraith is an author of published short stories, poems, articles and reviews, in both print and online publications. His novel, Hunting Jack, was serialised in 2004, and his chapbook, Fringe Fantastic: The Poet's Experience of the Edinburgh Fringe Festival, was published by Smashing Press in December 2005 to critical acclaim. Poolside Poetry soon followed, published in March 2007.
Colin has also published three e-chapbooks: Brick by Brick (2005), Silly Poems for Wee People Vol.1 (2006), and Selektion (2007). He edited his first anthology, Full Circle, in 2007 and his hugely popular children's poem, River Monkeys, appeared in the anthology, A Pocketful of Fun, published by Forward Press in 2006.
He is proud to be the Chief Editor and Publisher of The Ranfurly Review literary e-magazine, and an Associate Editor at The Scruffy Dog Review.
Colin lives in Edinburgh with his wife and daughter, two rabbits and a shoal of fish. He is a fully trained expert in the art of fake falling.
——-
5 Questions with Colin Galbraith
1. What was the inspiration for Stella?
The idea for STELLA first came to me in 1988. I was listening to an album of the same name by Yello, and I developed a series of images to certain songs in my mind as I listened to the album. I always promised myself I would one day write these images down into a cohesive text, but it wasn't until 2007 that I felt my writing had developed enough that I could give it a bash.
I began by writing down these images, and from that I used the music to further inspire the gaps in between. Slowly, a story began to unfold until I had a first draft. It took a lot more work to make it into what it is today and I'm delighted with how it turned out.
2. What research went into writing Stella?
Not as much as you might think. Most research concerned the locations in the book that I hadn't been to, but which I wanted to appear in the book. It's fast moving story and takes the reader all around the world, so while I could write vividly about Prague, Amsterdam and London, I knew little of San Francisco, Brooklyn NY and Fes, Morocco.
There was also a bit of research into demons and black roses, but mostly it's all made up – the kind of writing I enjoy most.
3. Why write a paranormal mystery? You've never written in this genre before?
It wasn't meant to be a paranormal book. My original idea was for the book to be a spy novella, something with its roots in the mysteries of underground eastern Europe. As the ideas began to develop on paper, though, the book began to take on its own form and it made sense for a paranormal aspect to come into it. I can't honestly see it working without it now.
4. Will we see more of Stella and Randolph?
STELLA was originally meant as a personal writing experiment and I never meant, or expected it, to ever be published. However, now it has been, and having enjoyed working with Stella and Randolph so much, I want to do more with them.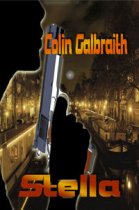 Both Stella and Randolph are such strong characters and there are so many questions I have now STELLA is behind me, that I want to find out more about them. And where the author has questions, so too I expect will the readers.
I've already begun work on the sequel and am planning on making their story into a trilogy. The book I am writing just now – the sequel to STELLA – is called BACCARA BURNING, which will take Randolph and Stella's relationship to the extreme. It will be a real test of their love and trust, and through this we will get to know the real them. Both have lived dark and hidden lives, but in Baccara Burning the cloaks are gone and there is no hiding any longer.
The book starts in Sorrento, but ultimately I want to bring them to my home town of Edinburgh, throw in a local ghost legend or two and see what happens.
5. Tell us a bit about your writing process. Do you have a particular routine you follow?
My daily schedule is usually hampered by the inconvenience of a day job, which means I have to work around it. I get up around 5 am most days and write or take care of some editing while I have my breakfast. Then it's off to the day job and if I can squeeze it in, take care of some admin or prepare emails I have to send out when I get back home during my lunch break. After work, family duties take over for a while before I'll sit down and write into evening.
That's the routine. My writing process, however, varies greatly depending what it is I'm writing. If it's a newspaper review I'll have the piece researched, drafted and submitted all within a few hours of getting the commission. This includes writing two drafts, one long and one short to make it easier for the editor, but also means a concentrated effort to get it out.
With fiction I try and get down an average of 2k per day, though it doesn't always work out. When I'm writing a novel I'll try and get those words down first thing in the morning, because I'm at my best at that time and I find it tees me up for the rest of the day. If I could write all day I would, and if I really had a choice in the matter I would probably write through the night, but we can't have all it our way!
Thanks so much for stopping by, Colin; can't wait to read your book!
Readers, remember to comment on this post for your chance to win a copy of Stella!
---
---
---
---