Are you getting ready for more Bleeding Espresso? I sure hope so, because I'll be back very shortly with new posts, new contests, interviews, an exciting foodie event, and more!
Which, I suppose, means no more of this: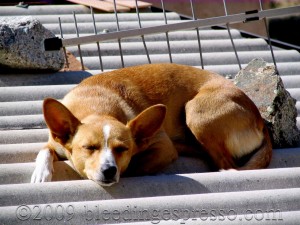 Oh well. Just to be clear, I will *not* be sorry to see August go. Stinking heat and a village full of tourists gets old pretty fast to this peace-and-quiet-loving gal.
In the meantime, since Bleeding Espresso will be going through some changes (including design!), please take a moment to let me know what you'd like to see more and less of here at the blog.
For those who have already done so via Twitter and Facebook, your input is *molto* appreciated! And to everyone else, please do add your two beans!
18 Beans of Wisdom to "Coming Back Soon…"
---