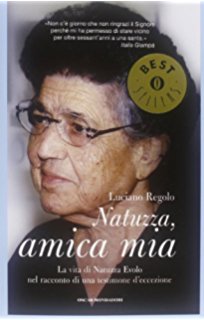 In "A Report on the Case Investigation of Natuzza Evolo," Michael Nanko wrote that Calabria is "an area spattered with beliefs in sorcery, witchcraft, charms and spells."
Well . . . yes.
And Natuzza Evolo is a great place to start talking about mysterious happenings here in the deep south.
"Mamma" Natuzza was a Calabrian mystic who acted as a medium and healer, showed evidence of stigmata, and could "bi-locate" — be in two different places at once. She is also connected with "hemography," which is when blood stains miraculously transform into symbols, shapes, and even words, particularly Christian ones like crosses.
Although she's relatively unknown internationally, Italians have been fascinated by Natuzza for generations as she has been a popular subject of books and various Italian television programs.
After Natuzza passed away on All Saints' Day in 2009, about 30,000 people traveled from all over Italy and beyond for her funeral in rural Calabria. One-hundred priests and six Italian bishops were also in attendance.
The Early Life of Natuzza Evolo
Natuzza was born in 1924 in Paravati, a tiny hamlet near Mileto in Calabria. Her given name is Fortunata, from which the diminutive "Natuzza" comes. Natuzza's father had left for Argentina a few months before she was born, and he never returned, leaving Natuzza's mother alone to care for her newborn as well as her other children.
Natuzza never learned to read or write and helped support her mother and siblings by working for local families. She allegedly began having her first visions as a small child — Jesus, it is said, appeared to her as a boy who played with her and one of her brothers — but her brushes with the dead didn't become popular knowledge around town until she began experiencing them as a young teen at work.
And it wasn't just apparitions with Natuzza, even as a child. At her First Holy Communion, her mouth reportedly filled with blood when the wafer symbolizing the body of Christ was placed inside. At her Confirmation, a large stain of blood in the form of a cross formed on the back of her shirt.
Because of Natuzza's experiences with the paranormal, as a young woman she was closed in an asylum for a few months by the local priest and was not permitted to enter a convent to become a nun.
Still, Natuzza always supported the Church and devout Catholics arrived by the busload to visit her in Calabria and ask for her help or intercession; a few hundred people waited to see her each day. There are records of thousands of cases in which Natuzza is said to have intervened — and judging from the number of Catholic priests and bishops who attended her funeral, the Church eventually came around as well.
Visions, Bilocation, Stigmata, and More
In addition to seeing Jesus, Natuzza also claimed to have also seen and communicated with the Virgin Mary, angels, and the dead, particularly souls in purgatory, throughout her life.
Natuzza was also considered a healer, credited with being able to look at a person and tell them what was ailing them, physically — using formal, medical terminology — as well as suggest treatments. She could also see the future and sometimes spoke in languages she didn't know (remember, again, she was illiterate). In fact, some of her blood stains even transformed into phrases in foreign languages.
But perhaps Natuzza is most famous for the appearance of stigmata — marks that occur on one's body in the locations of Christ's crucifixion wounds — at Easter. Natuzza would lock herself away and wouldn't take visitors because of the extreme physical and emotional toll that Settimana Santa (Holy Week) took on her.
Natuzza never accepted money for what she did or was accused of participating in anything fraudulent based on her abilities, which, in the eyes and hearts of many, lend credence to her and her followers' claims.
Skeptics, of course, have varying explanations for the goings-on with Natuzza. Psychologist Armando De Vincentiis believes Natuzza's "stigmata," for instance, to have actually been Gardner-Diamond Syndrome, a rare disease characterized by the appearance of unexplained, painful bruising.
Regardless, Natuzza had many devoted followers and still does today through her Fondazione Cuore Immacolato di Maria Rifugio delle Anime (Immaculate Heart of Mary, Refuge of Souls Foundation), which she formed during her lifetime. Her remains are now found there and can be visited by the faithful during allotted hours. The foundation also holds regular mass and prayer groups.
One of Natuzza's most endearing qualities was that she was a "donna del popolo," a woman of the people. Here is Natuzza's welcome message (in Italian) on the foundation's homepage, during which she humbly describes herself as "una di voi" — one of you:
More Info About Natuzza Evolo
There is no shortage of literature about Natuzza available but most of it is written in Italian. As far as I have found, only one volume of Natuzza of Paravati (Dr. Valerio Marinelli's ten-volume collection documenting interviews with Natuzza and people she had helped) has been translated into English; you can read excerpts of testimonials — and see photos of some examples of her hemography — at Mystics of the Church.
You can also learn more about Natuzza at the website of her foundation: http://www.fondazionenatuzza.org/
Sainthood for Natuzza Evolo?
I have read in a few unofficial places that the canonization — the process toward sainthood in the Catholic Church — has begun for Natuzza Evolo. If she is eventually canonized, Natuzza would join Father Gaetano, subject of the wonderful book, My Cousin the Saint by Justin Catanoso, as one of Calabria's modern-day saints.
I'm sorry to say I didn't know much about Natuzza's story before she passed away, so I never had the pleasure of meeting with her. I would love to hear from you if you or someone you know did, though — or have ever met with a medium or healer!
Please share in the comments!
*
This month's Italy Blogging Roundtable topic is "Myths/Legends." In choosing to share the story of Mamma Natuzza, I interpreted the topic quite broadly to encompass the unknown, unexplained, and mysterious since, as a real person who was with us until just a handful of years ago, Mamma Natuzza was certainly neither myth nor legend.
As for her abilities, well, that is for you to decide.
*
To read more entries from the Roundtable, check out the following:
14 Beans of Wisdom to "Natuzza Evolo: Calabrian Mystic"
---