Yes, we've talked about My Cousin the Saint: A Search for Faith, Family, and Miracles by Justin Catanoso here (with Justin's guest post) and here, but now I'm posting a full review because I got a copy in the mail a few weeks ago and devoured this book. It's just that good.
What would you do if you found out that your grandfather's cousin in southern Italy was about to become a saint?
When this happened to Justin Catanoso, he went on a mission to find the miracles his cousin performed (both Vatican-sanctioned and internal family stories), his long-lost extended family in Calabria, and his own lapsed Catholic faith.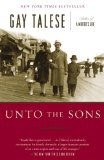 What emerged from his journey is a wonderfully written, engaging book that reminded me a lot of Gay Talese's Unto the Sons, one of my favorites in this genre, not only because of the Calabrian setting but also because of the family tales told from impressively objective viewpoints.
Even though Justin is in Italy for much of the book, his family back in the States plays a large role; they are so obviously a cherished, integral part of his life. The parts of the book about Justin's brother Alan, who died of cancer leaving behind a wife and young children, are some of the most poignant and touching in the book, and rightfully so. It seems this event, possibly more than all the other reasons Justin might have had, pushed Justin to come to Italy in search of miracles–particularly as it seemed one had been denied his own family despite prayers to their cousin the saint.
As for the saint, Justin does a fantastic job of detailing Padre Gaetano Catanoso's rise to sainthood from his early days as a traveling parish priest to the founder of an order of nuns. I'm not religious, but I admit I love saints and their stories–and now I particularly love Padre Gaetano. Sure the fact that he's the first saint from Calabria in 500 years means he has a special place in my heart, but it's more than that.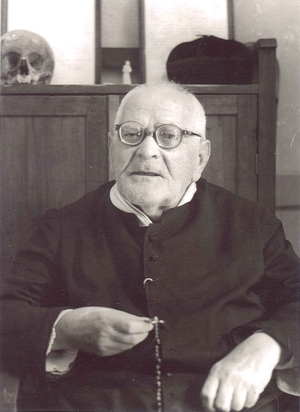 Padre Gaetano was, to me with my Roman Catholic upbringing, what priests should be–humble, devoted, pious, and, quite simply, simple. Not simple-minded by any means, as he was obviously an intelligent man with his volumes of writing, but simple. He lived in near poverty his entire life when surely he could have moved on to higher offices and better conditions than those in Calabria.
But Padre Gaetano remained faithful and committed to preaching to his fellow Calabrese–they who have such interesting mixes of beliefs from intense devotion to the Virgin Mary to the belief in malocchio. He even shunned the appellation "Don," keeping the humble term "Padre," showing his deep connection with his parishioners.
I also enjoyed Justin's tales of finding of his Calabrian family and becoming one of their own. I laughed out loud when Justin was presented with a box of family photos by his aunt; I had a remarkably similar experience when I started researching my family history.
"Take whatever you want," his aunt said, as did mine.
I found my great-great-grandfather's US citizenship papers, which started my path to Italian citizenship and to living in Italy; Justin found a photo of his Uncle Tony, who had gone AWOL in World War II to go find his aunt in Calabria only knowing her name–and he found her! This is often referred to as the first miracle of Padre Gaetano among family members.
Through Justin's words, I was right there with him and his Calabrian family in both good times and bad from the canonization ceremony in St. Peter's Square to his newly found relative's funeral. Justin's descriptions are vivid and moving but not over the top, offering the perfect balance so that scenes are emotional, yet not overly nostalgic and cliché.
But the aspect I enjoyed most in this book is Justin's personal journey of faith or lack thereof. Probably because I can identify with Justin as someone brought up Catholic but no longer practicing for a variety of reasons, I loved the way Justin handled this delicate subject with candor, honesty, and such rawness, exposing his thoughts and doubts about the religion in which he was raised.
And so Justin explores this old religion, returns to church, talks to priests, reads up on the subject, and clearly thinks about it, a lot–and then he shares the experiences with us, step by step. I love reading about spiritual journeys, and Justin delivers.
I can imagine for the sake of the book, he may have felt pressured to offer up his conclusions with a pretty bow: the prodigal son returns to the Catholic faith because there's a saint in the family! Score one for Catholicism!
But that's not what happened with Justin, and even though it would make for a nice television movie, that's not how he wrote it. He wrote about the truth, the reality, the struggle of wanting to believe and yet just not being there quite yet.
And that is the biggest reason why I loved this book. I'm a sucker for honesty.
I give My Cousin the Saint 5 espresso cups out of 5:
and encourage you to pick up a copy for yourself and/or for someone else.
*
Subscribe to my Book Reviews feed — book reviews ONLY, which aren't published to the main feed — by visiting Feedburner.
16 Beans of Wisdom to "My Cousin the Saint by Justin Catanoso"
---