We're eating lots of fagiolini (green beans) now as they're in season. The other day on the Bleeding Espresso Facebook page, I re-shared the link to my recipe for Green Beans, Pancetta, and Potatoes — one of my absolute favorites — and remember I also posted a similar recipe with tomato sauce and pork.
But you know what I haven't told you about yet? A delicious, traditional Calabrian recipe for a green bean salad that I never had until I came here. P introduced me to it several years ago, and we eat it often throughout the summer — and I love it more every time I have it.
Note that the traditional Calabrian green bean salad doesn't include an egg like in the photo below, but if I'm having this for lunch (as opposed to as a side dish), I'll add an egg for some protein. Notice, incidentally, the yolk color of this egg (from a neighbor) as opposed to ours. Just sayin'.
Insalata di Fagiolini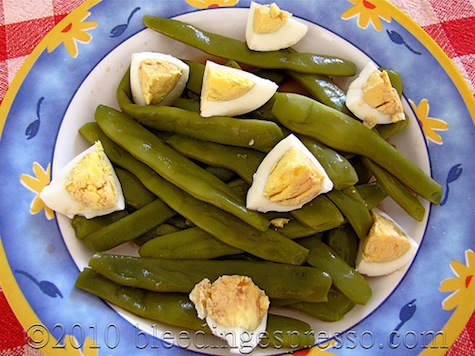 1/2 kilo of green beans
3 tablespoons of olive oil
2 tablespoons red wine vinegar (or to taste)
4 cloves of garlic, cut in half
Salt to taste
1. Prepare beans by washing and snapping off the stem ends.
2. Parboil beans in salted water for 5-10 minutes until they are no longer crunchy; Calabrians don't like much crunch in their veggies, but you might, so feel free to adjust for your taste.
3. Strain and let cool.
4. In the meantime, mix together olive oil, garlic, and salt in a small bowl.
5. When the beans are cool, toss them with the dressing (minus the garlic) and let sit for at least 10 minutes so the beans soak up all that goodness.
6. Adjust for seasoning and serve.
Buon appetito!
P.S. Note that you can also freeze parboiled green beans, so if you find yourself with lots of fresh beans and you're not sure what to do, just clean them, parboil, and freeze and decide later!
11 Beans of Wisdom to "Insalata di Fagiolini: Calabrian Green Bean Salad"
---