Today is La Festa di San Giuseppe or St. Joseph's Day. Here in my corner of Calabria, we celebrate with "i zippoli" or le zeppole, which are quite different from what some of you know as zeppole, but we'll get back to that in a moment.
This is what ours look like: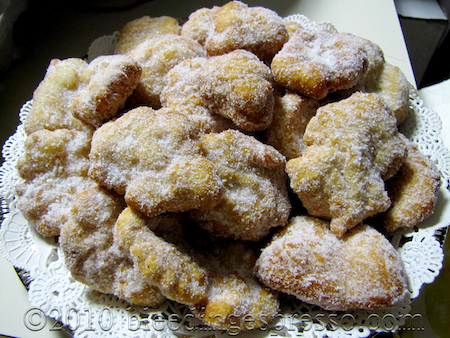 That photo was taken on Christmas Eve in the United States after my mom and I whipped these up for the traditional family get-together at my dad's house. Why zeppole on Christmas Eve, you ask?
Well because these little guys are *huge* family favorites — think legendary status — and I had a sinking feeling that no one on that side of the Atlantic had tasted their goodness since my grandmother passed away in 2001.
My intuition was right, and these were a big hit, gone rather quickly, and the source of many happy memories floating around my grandmother's old house. Even the Russians in attendance had to ask how to make these babies.
Well, you don't have to ask as I've already posted the recipe at Calabrian Zeppole.
You can read more about today's holiday, what fava beans have to do with it, and the different types of zeppole throughout Italy at Fava Beans and Cream Puffs.
And if you want to know how to handle those favas and what to make with them, check out Calabrian Sausage and Fava Beans.
And hey, if you're feeling a bit adventurous, why not take some vacation days, compare flights, and hop a plane in time for some zeppole? I'll save you some. Probably. Hurry!
Now if you'll excuse me, it's time to get snapping, literally, as I get my fava on.
Auguri to all the Giuseppes and Giuseppinas!
And buon weekend a tutti!
15 Beans of Wisdom to "Calabrian Zeppole di San Giuseppe for Italian Father's Day"
---