You had to know it was only a matter of time before fava beans made an appearance on What's Cooking Wednesday.
Fava beans (also known as broad beans and "fava" in Italian, "fave" is plural) are peasant food at its finest, and if there's one thing we do well in Calabria, it's peasant.
I wrote about favas before they start coming into season right around St. Joseph's Day in March; now we're at the end of the fava run. Mostly we just eat them raw as a snack (more info on how you get to that point below), but when P's mom brought a big ole bag of them over, we had an urge to cook them.
And yes, that could also be because "Fabio" comes from faba…Latin for fava! It's in our DNA around here.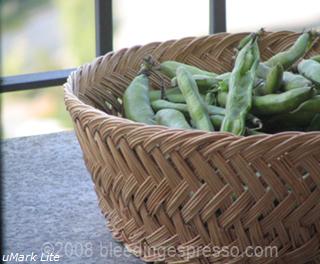 Normally P's mom would use "carne salata" (a very salty cured meat) with this dish, but we didn't have any so we used spicy Calabrian sausage. Pancetta or bacon could also easily be substituted.
While researching for the post, I came across this recipe from medieval times–not only is the recipe quite similar to what P's mom would make, there are words in there more reminiscent of Sicilian/Calabrian than standard Italian. Interesting, huh?
Before we get to the recipe, let's get something clear before you start–you have to *really* want to eat favas to go through the work involved. Susan of Food Blogga, gives a great demonstration of shelling them here, and now a quick lesson from me.
They start looking like this: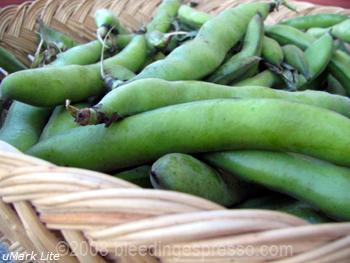 Snap off the top of the pod and pull down so the pod splits at the seam (or otherwise twist and turn the thing until you expose the beans):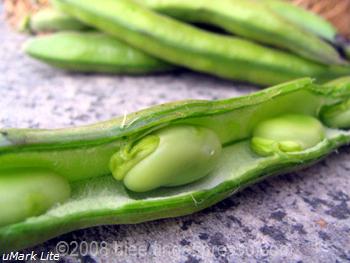 Remove the beans and throw away the pods so that you're looking at a bunch of beans like this:
You're not done yet! Now you have to take off the outer casing as well, otherwise you could be in for some nasty digestion issues later.
Susan recommends boiling the beans and then plunging them in ice water, but I just peeled off the little "handle" on top and then squeezed out the beans.
Now your favas are shelled and ready to eat raw or cook.
I told you. You have to want these.
If you're in the right frame of mind, shelling favas can be an extremely relaxing experience as it was for me. Yes, my thumbs hurt a little bit afterwards, but you know what they say:
No pain, no favas.
They are worth it, I promise, especially since this recipe has only four ingredients. Easy peasy! Or, easy fava-y? And as I told P, it's fava-loso.
OK I'll stop now.
Calabrian sausage & fava beans
(Salsiccia calabrese con le fave)
4 tablespoons olive oil
2 links of spicy sausage, cut into chunks
4 garlic sprouts, chopped
Pile of favas
Salt to taste
1. Heat oil in medium pan and add sausage. Let cook for about 10 minutes until the sausage releases some of its fat and flavor into the oil.
2. Add garlic sprouts and beans and cook until beans are tender but not overcooked, about 15-20 minutes, testing often.
3. Adjust for salt.
4. Serve with fresh, crusty bread, and this is a delicious, hearty meal on its own.
Notes:
1. The green attached to the end of this fresh garlic is what I mean by garlic sprouts. The first time P's mom called these "code" (COH-deh) or garlic tails, I just had to smile. Isn't that a great name? Don't you love Italian?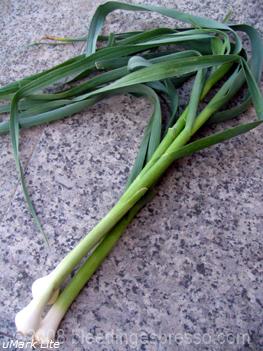 2. I think this recipe would be great with tomatoes thrown in too, but P wasn't feeling adventurous, so we did it without. Maybe next fava season.
Buon appetito!
Have you tried fava beans?
What's your favorite way to enjoy them?
33 Beans of Wisdom to "What's Cooking Wednesday: Calabrian Sausage & Fava Beans"
---