Archive for 2009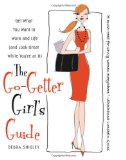 Debra Shigley is a journalist, speaker, and author of the book The Go-Getter Girl's Guide: Get What You Want in Work and Life (and Look Great While You're at It). Debra went to Harvard undergrad and then got her law degree at Georgia State–and now she writes books and, not surprisingly, looks great doing it.
The Go-Getter Girl's Guide is a comprehensive resource for career women who want to succeed in the workplace but not lose their own sense of self. The book covers strategies in the following areas, among others:
Cultivating mentors
Handling office politics
Schmoozing
Dressing for Success
Maintaining a Healthy Physical and Emotional Lifestyle
Debra sent me a copy, and I flew through this book. It's full of great advice for women in all stages of their careers, but especially for those just starting out, which makes this a fabulous graduation gift — or, of course, Christmas gift. On top of all that great advice, though, you'll find the reading easy and enjoyable with Debra's casual, funny writing style.
And it really does cover so much of what women should know before stepping foot into a workplace; one of my favorite parts is about tips on how to ask for a raise. Many, many of us women struggle with that, but Debra makes it look easy peasy. And it is, once you learn how it should be done.
Now, I'm going to give you a chance to win my copy of the book; all you have to do is comment on this post by 11:59 p.m. EST on Sunday, December 20, 2009. I am, though, limiting the contest to those with shipping addresses in the United States or Canada.
If you live abroad, why not enter and then have the book sent to an American or Canadian friend or relative as a gift — or you can even pick it up sometime on a visit? All you need is *some* address in the U.S. or Canada; it doesn't have to be yours!
Now, here's a guest post by Debra to give you a taste of her writing:
I've been thinking about some new studies that suggest women are gradually becoming unhappier than we were 40 years ago.   Of course, the research reflects a snapshot and not the complete picture of modern women's experiences. I'm happy, and I speak to women all the time who are living happy and fulfilled lives, personally and professionally. But, I think the research prompts us to consider a few things.
First, happiness is such a relative term, and how you personally define it — e..g, 'feeling good'; joy; fulfillment; professional success; being in love; even having a good hair day!– affects whether you feel you're achieving it in your life.  But second, women fundamentally have more opportunities than we did 40 years ago, and I think with so many options and choices, happiness can also become a choice. Happiness—however you define it– doesn't just happen by accident!  It's something I became very aware of interviewing so many women who are making their dreams happen (and looking great too!)—Go-Getter Girls, as I came to think of them. These are women who are fun, sassy, savvy—and who are also generous and want to share their advice on everything from finding your perfect job to your perfect pair of jeans.
As a women, I think we almost have to ask ourselves on a daily (hourly?!) basis, am I  doing things in my life to make me feel happy? Do I even know what will make me happy? Am I taking ownership of the choices I'm making—whether it's my relationships, career, health?  Am I traveling? Trying new things?  Working out? Treating myself to a manicure? Creating joy in my own life, and others' lives? Finding fulfillment sometimes takes a lot of work! That's sort of the essence of Go-Getter Girl-ness: taking charge of and responsibility for your life and career—instead of waiting for life – and happiness- to just happen to you.
Now, get after it!
———-
Thanks Debra! I'm definitely a fan of not waiting for life to happen…go ladies go!
And remember to comment for your chance to win a copy of the book!
---
---
---
---
---
---