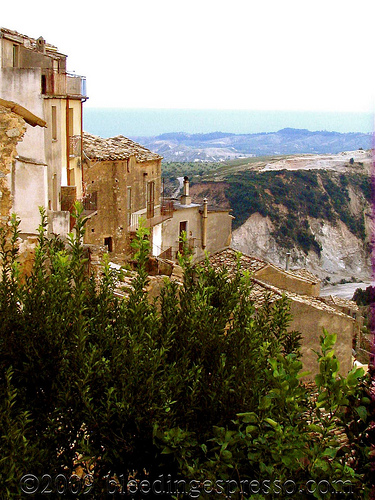 Last night as my mom, niece, and I were leaving a restaurant (Italian, mind you), my mom stopped to talk with one of her former coworkers who happened to be seated nearby. My mom introduced me and mentioned I live in Italy.
"Why would you want to live there?" she responded.
I was beyond taken aback by the question. I know not everyone feels the desire to live and experience other cultures, but really? Why would I want to live in Italy? REALLY?
Completely baffled, I blanked but quickly blurted out, "Because I love it!" It wasn't until later that I sat and thought about it. Of course I have lots of practical reasons I choose to live in Italy, including but not limited to the following:
Paolo and all my fur babies
Fresh delicious food (much of it from our own garden)
The laidback lifestyle where I'm not pressured to have the latest gadget, iFillintheblank, etc.
Living minutes from the sea and mountains
Being surrounded by amazing history, culture, and beauty
Pretty nice weather year-round
How much healthier I feel since living there
But you know what? "Because I love it!" really sums it up best after all. It's difficult to put my happiness and overwhelming sense of feeling I'm in the right place at the right time into words, spoken or written, but I know I feel it, and that is what's important.
And as it turns out, that random, unexpected question really came at an interesting point during my first trip to America in nearly six years; I'm about two weeks in with another four to go, and I can honestly say I *know* I love (and miss) my life in Italy. There's still a lot to process about this trip, but I'm grateful that I was pushed to explore at least some of that while I'm still living it.
Don't get me wrong; I'm certainly enjoying my visit in the U.S. — this crazy Coal Region will always be home — but I have a new home I love now too.
And that's reason enough for me to live there.
P.S. Buon compleanno to my amore (31) and to Bleeding Espresso (3)!
57 Beans of Wisdom to "Why I Would Want to Live *There*"
---