***Be sure to check out NutellaDay.com for the most up-to-date info!***
Thanks to all of you, we had another truly fabulous turnout for World Nutella Day 2009!
With entries in Italian, French, German, Spanish, and English, this year's holiday was more international than ever–a *true* World Nutella Day!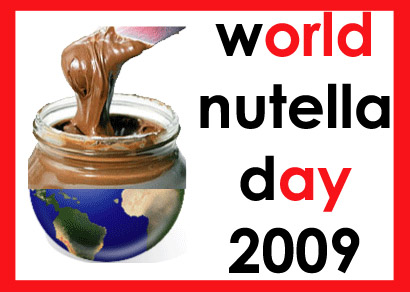 Be sure to check out the other half of the round-up at Sara's Ms Adventures in Italy, and please feel free to bookmark, Stumble, Digg, Delicious, etc., this post for future reference. Remember that you can see Nutella recipes from past World Nutella Days at NutellaDay.com.
But for now, grab a jar of Nutella and a spoon, and dig in:

Let's start off with MsGourmet of the Gourmet Worrier, who lets us know that Nutella Day is Everyday. She makes an excellent point, doesn't she? And for you parents out there, MsGourmet also tells us about the magical persuasive powers of our favorite chocolatey hazelnut treat.
Feeling nutty? Feeling, um, buttery? Head over to Sarah's What Smells So Good? for Two-Nut Butter Cookies. You'll also get a nice dose of silken tofu and chocolate-flavored hemp protein powder. Healthy Nutella! I love it!

City Girl at City Girl Lifestyle loves Nutella with ice cream. I certainly can't blame her, can you? She tells us how she grew up with Nutella in Switzerland and now enjoys it with ice cream (easy on the ice cream, heavy on the Nutella).
Over at Cappuccino Chit Chat, Eryn has Nutella crepes. Yum! Eryn also bravely shows herself as we've all found ourselves at one point or another–with Nutella smeared ever so delicately across our faces. Brava Eryn!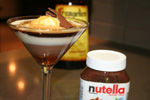 Check out this "Nutellico Affogato" from Berthonavaro Gasali: in a martini glass, place 15 – 30 ml of "frangelico" liquor, then a mixture of cream and nutella, more cream on top, a small scoop of vanilla ice cream, and finally a shot of freshly brewed espresso. I'm in!

Our friend Beatriz of Suitcase Contents has whipped up Banana Nutella Tempura. Wow, I love anything with banana and Nutella, but this looks especially tasty. Beatriz, how soon can you be in Calabria? I'll supply the Nutella!

Sandra of Sandra, dans tous ses états has what I believe is our only footwear-based entry with these adorable Nutella shoes. Sandra writes in French, but the language of Nutella is clearly universal. Love those kicks, Sandra!

From shoes to purses, Elaine of The Italian Dish has created Banana and Nutella Purses with pastry dough and walnuts if you like. I'm with Elaine here–banana and Nutella is one of the greatest food combinations ever, so I'm loving these little borsette.

Irene at The Happy Turtle shares her love for Nutella through photos like this adorable one. Irene calls Nutella the "guiltiest pleasure" of her childhood. Anyone else out there feel the same? I only came into Nutella a few years ago, but I'm making up for lost time….
NYC/Caribbean Ragazza took her jar of Nutella out for World Nutella Day–on a (hilarious) Tour of Rome, to be exact. Nutella mades stops at the Trevi Fountain and the Pantheon (as shown) and further hammed it up in the Eternal City. Oh that Nutella!
Dana of Stresa Sights shares the history of Nutella as well as a fabulous sign that really says it all: What Kind of World Would this Be Without Nutella? We shudder to think of the possibility, Dana….

Live from Tuscany emerges from a bit of a blogging break just to celebrate World Nutella Day with a Nutella Castagnaccio, a dessert typical of Tuscany but with a Nutella twist. She also shares some rather fun personal news (see also Fatterelli) for those of you who have followed her blog.

Ciao Chow Linda shares a Nutella Pizzelle Sandwich, combining two of my very favorite things in the world; the recipe comes directy from the kitchen of 94-year-old Aunt Alice, so this is pretty much guaranteed goodness.

Liliana of My Cookbook Addiction offers up these Decadent Nutella Waffles with the added topping suggestion of bananas and pure Maple Syrup. My sweet tooth is calling out to you Liliana, and it's saying "LOVE!"
Speaking of sweet teeth, Lisa at Sofia Vincenza confesses that she has a major sweet tooth. You're in *excellent* company, Lisa. Here she shares Nutella in a blanket, if you will, Nutella wrapped up in a crepe. So cozy!

Nithya at Hungry Desi shares Nutella Ricotta Stuffed Pancakes.  Mmmm next time I do a Sunday brunch, I'm thinking these will have to be on the menu. Nithya also whipped up some home fries with these, by the way. Check them out!

Nithya also shared this photo of a Nutella drenched waffle that she got from Wafels & Dinges, a Belgian waffle truck in New York. I like the way those Belgians think! Click on the photo to see it in larger, gooey-er detail.
Jules of Domestic Goddess in Training found herself without Nutella in the house so she whipped up a substitute using what she did have–cashews and rapeseed oil. Sounds molto tasty, Jules!
Alyson of Tasty Business writes: "To Nutella: Nutella, I love you. And I am so happy to celebrate this very special day with you." To see the rest of her love note, including racy details of how they spent the morning together, be sure to head over to her Ode to Nutella.

Hornedfroggy of My Baking Heart confessed that she hadn't tried Nutella even though she'd been to her homeland of Germany many times–but she's making up for it now with these adorable Nutella Palmiers. I'm loving all the pink and hearts around them in the photos as well.

Marla of Bella Baita View sent in these Mini-Banana Cakes with Nutella. She wrote that the dollop of Nutella sunk to the bottom, which made for a lovely surprise when you were just finishing up your mini-cake. Sounds great to me, Marla!
One of my favorite things my mom makes are oatmeal squares, and Elly of Elly Says Opa! has found a way to incorporate Nutella in her Nutella-Cherry Oatmeal Squares. These wouldn't last long in my house, Elly. Not at all.

Lola of Aglio, Olio & Peperoncino contributes a Pseudo-Mousse as she calls it–whipped cream and confectioner's sugar in with our Nutella. The photo is actually of her old mousepad–how cute!–but do read the rest of her post entitled Confessions of a rampant Nutella junkie. Very entertaining.

Pink Sky shares a Nutella strawberry crepe showing that bananas aren't the only fruit that loves Nutella. She makes a good point, too, that these would be great for romantic Valentine's Day treat. Of course I'll take any excuse to eat Nutella….

Katie of Katiecakes (how cute is that name?!) sent in this gorgeous Nutella swirl ring and writes: "Not only does it look pretty, but it tastes like a continental breakfast while holidaying in Eastern Europe. The smell transported me straight back to Prague." Mmmm…I want to come too!

Lynn of and then I do the dishes warms us up with some Nutella Hot Chocolate. She adds a little espresso powder for an extra kick, and I don't know about you, but this would definitely liven up my afternoon. Now who has biscotti I can dip in there?

Jamieanne of The Cupcake Review made Nutella and peanut butter swirl cookies as well as, you guessed it, Nutella cupcakes with Nutella coffee frosting. Look at that presentation! I think I'd have to triple the recipe to keep me in Nutella cupcakes for a few breakfasts.

Courtney of Cook Like a Champion cools us off with Chocolate Hazelnut Gelato and Gelato Coolers. She promises "If you like Nutella, you will love this gelato." I believe you, Courtney. Can't wait until the weather heats up to try this!

Faith of Blog Appetit reminds us of the simple pleasure of Nutella and spoon and also suggests a new motto for World Nutella Day: "Into every life a little Nutella must spread." Love it! The photo was taken at a crepe stand in Paris. Love that too!

Christine of Cooking with Christine wanted to try something different than baked Nutella goods, so she went with grilled pineapple topped with Nutella and mascarpone sweetened with brown sugar and a little vanilla. Excellent decision, Christine!
Joan of Soapbox Musings compiled 5 different ways to eat Nutella, including cookies, crepes, on Lebanese bread, with fruit, and, of course, on its own with a spoon. She throws in two other suggestions for good measure, and ended up with this photo of something we've all unfortunately experienced–and empty Nutella jar.

Carrie of Carrie's Sweet Life whipped up some Nutella ice cream with a recipe that looks easy enough even for a beginner ice cream maker like me. Carrie thinks she might add some crunch to the mix next time, so I hope she'll post about how it turns out.

Kim of What I Really Think traces her love affair with Nutella right up to when she allowed herself to buy a jar of Nocciolata when she was in Italy. Kim's favorite way to eat Nocciolata? Spread on cinnamon raisin toast. Love that simplicity (and thanks so much for your kind words about my blog, Kim)!
Elra of Elra's Baking went a little Nutella nutty–in a most Nutella-icious way! She sent in Baked Bosc Pear Filled with Nutella Fondant and Zabaglione *and* Nutella ice cream. Elra, can I put the Nutella ice cream on the pears? Too much?

Cathy of Cathy's Kitchen Journey takes us on a trip to Crepe-ville with these pretty Strawbery Banana Crepes with Nutella. Go check out the rest of Cathy's photos of this creation, step by step. So lovely and inviting–I can't wait until it's strawberry season!

Are you feeling shaky? Milkshakey, I mean. I hope so because Kokomama of My Adventures in Food has shared a recipe for a Nutella Milkshake that includes chocolate ice cream, toasted marshmallows, and, of course, Nutella. Oh this just sounds and looks amazing, doesn't it?

Erin-Joi of Erin-Joi's random thoughts celebrated World Nutella Day with a Nutella sandwich for lunch. Here is her jar of Nutella looking a little less full than full…might be time for a new jar Erin-Joi!
For a long time, Joel of Six By Ten Tiny Kitchen mistakenly thought that Nutella was the same as Vegemite, but now he admittedly has seen the light thanks to these darling shortbread cookies topped with Nutella. Joel says his wife has the sweet tooth in the family, so I'm wondering if she'll be requesting these cookies more often. Hmm….
And speaking of cookies, look at these Nutella Pinwheels from Shaheen at The Purple Foodie. They look so good and come with a great message too. Shaheen writes "I earnestly believe Nutella can bring world peace. Who wouldn't be transported to a completely different world with something as little as a spoonful of Nutella?" Indeed, Shaheen. Indeed.
GB of the Italian Notebook takes us on a stroll through noccioleti, filbert groves in Italy. What does this have to do with World Nutella Day? A lot since those groves are where we get the hazelnuts that go into our beloved Nutella.

To celebrate World Nutella Day, Ramune of EVERY.SEVEN generously shared a brand new jar with Bobute, faithful travel companion through Europe who normally enjoys black raspberry ice cream. This is beyond adorable!

Michele of Our Italian Table contribues a Toasted Coconut and Nutella Semifreddo and shares memories of late night study sessions with jars and jars of Nutella. Mmm I just love toasted coconut with anything, but I've never had it with Nutella. Sounds great!

For those of you who are gluten-free, Laura a.k.a. The Happy Housewife contributes a Gluten-Free Torta di Nutella–Nutella cake for everyone! The recipe is also in English so there's no excuse not to get over there and check it out. You won't be disappointed!
World Nutella Day Posts Only in Italian

Marta of Lodici has submitted a lovely Nutella creation: Rotolo alla Nutella…all aboard for a Nutella roll! This got me thinking of a nice espresso after lunch, and look! The next entry tells me I'm not alone….

Aiuolik & Uncle Pigor of Trattoria MuVarA shares Maddalene al cuore di Nutella, which I would've loved even without the addition of the shot of espresso in the photo. Come on, Nutella and hearts? You know I'm all over that.
Now that we're on a roll (hah!), Claudia at Knitting, Cooking, and Other Stories shares this gorgeous Rotolo Marmellata e Nutella–a Nutella and cherry jam roll. The colors are amazing, and I imagine the flavors are even better.  I love fruit with chocolate; this would be fun to play around with different marmalade flavors.

Jajo of Viaggi, cucina e . . . io celebrates World Nutella Day with this gorgeous dessert of Coconut Cream and Nutella and also an expression of love for one of the simplest ways of enjoying Nutella–on fresh bread. I'm *so* with you Jajo!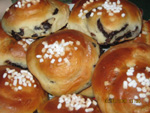 Giusy of gliamorididida shares two different Nutella treats: Brioche arrotolate alla Nutella and Plum-Cake Simil Mulino Bianco alla Nutella. Secondo me these should both be in every bar and available for colazione with my cappuccino. Who's with me?
Simona of Pensieri e Pasticci (love that name!) made some Tortine alla nutella per la prima colazione. Those are little Nutella cakes for breakfast in case  you didn't know. They are almost too cute to eat, aren't they? Almost.

Antonella of Pane al pane…vino al vino shares two amazing creations: Frutta Nutella e cocco and Sfogliatine panna e Nutella. Both are quickly assembled and probably even more quickly enjoyed. Great snacks!

Lenny of Una finestra di fronte incorporates one of my favorite Italian flavors, bergamot, into his Bicchierini di ricotta al bergamotto, Nutella e pistacchi.
Hey, did you bergamot is only grown naturally in a small stretch of land in Calabria? Stay tuned for a post about it!
Photoless But Just as Appreciated:
Max of Kochen nach Rezept sent in his contribution to World Nutella Day–the tale of a Nutella Milkshake from what I can understand. I took a year of German in college, Max, but you're making me work here! Max also links to a great recipe for Nutella Rolls as well.
Thanks *so* much to everyone for taking the time to spread a little Nutella love throughout the blogosphere. World Nutella Day 2009 was definitely the best yet!
Be sure to check out the other half of the roundup at Sara's Ms Adventures in Italy–but please be sure you have Nutella in the house first. Trust me.
And if you did a World Nutella Day post but don't see your entry here or at Sara's place, please let me know in the comments so we can get you in the round-up!
35 Beans of Wisdom to "World Nutella Day 2009: Round-Up"
---