One of my favorite food discoveries here in southern Italy has been the artichoke. Yes, I had eaten them a few times in the States, but, while tasty enough, they just weren't something I sought out.
Now I very much look forward to artichokes appearing at the market, which they are starting to do now, and I'd like to tell you about them for this week's What's Cooking Wednesday.
These flowers of a silvery-leafed plant can be quite a bit of work depending on how you prepare them, but before we get to my favorite artichoke recipe, let's talk more about the 'chokes.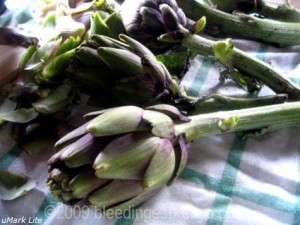 History of Artichokes
Carciofi originated in Sicily, where they grow wild, as they do in Calabria, and *wow* are those good!
In the 15th century, Napolitans cultivated them, and artichokes soon made their way to the Medici dinner table in Florence, where they were an instant favorite.
Choosing, Buying, and Storing Artichokes
You want artichokes that have tightly packed leaves and healthy, colorful tips–if they're browning, that 'choke is on its way out. If you can get them still attached to the stem, do so, as they'll stay fresh longer (you can also peel, cook, and eat the stems as well).
To store artichokes with stems, put them in a vase with water like a flower arrangement–move over Martha Stewart! Look at my Artichoke Centerpiece!
If you can't get them with stems, wrap the artichokes in plastic wrap and keep them in your crisper. They should last a couple days, but do try to use them as quickly as possible.
Cleaning Artichokes
Regardless of how you'll cook them, the procedure for cleaning artichokes is the same. Snap off the stalk and tear off tough, outer leaves. Rub them with lemon to avoid discoloration and/or put them in a bowl with lemon slices.
You'll then have to boil them, either whole or in wedges for about 30 minutes for large artichokes or 15 minutes or so for smaller ones.
Be sure to remove the hairy choke inside before serving or stuffing.
Artichoke Recipes
Artichokes can be eaten raw (the tiny, tender ones), braised with olive oil, parsley, and garlic, or stuffed with any number of fillings.
My favorite?
A great dish typical of Calabria that starts with the braising as described above and incorporates eggs, breadcrumbs, and lots of grated parmesan cheese: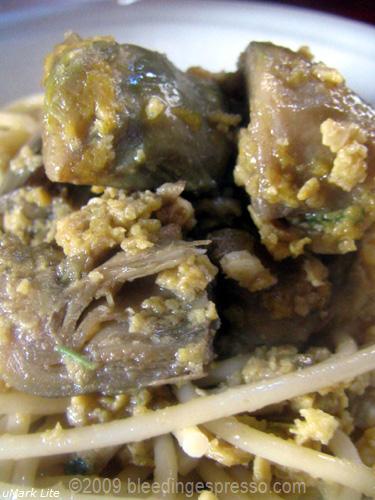 I've given you the recipe before for Pasta with Artichokes and Eggs, but you might have missed it, and I promise you, it's too good to miss. It's one of my all time favorite Calabrian dishes.
Do you like artichokes?
How do you prepare them?
22 Beans of Wisdom to "What's Cooking Wednesday: Carciofi/Artichokes"
---