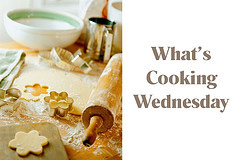 On my birthday, I took a couple pieces of cake to my American neighbors just down the street from me (yes, I have two American neighbors!).
While I was visiting, a neighbor of theirs offered up two gorgeous tuna that her husband had caught that morning–and guess who was, in turn, offered one of these beautiful babies? What a birthday gift!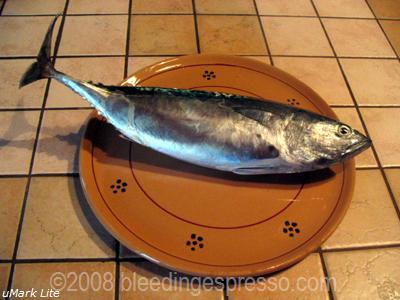 And so plans for my birthday dinner were adjusted. We had the originally-scheduled pork ribs the following night (delicious as always), and instead had a special treat of grilled tuna (tonno alla griglia) with a side of homemade french fries:
By the by, if you've never had homemade french fries made in olive oil, you don't know what you're missing–it's definitely worth the work of peeling and cutting up the potatoes just so. Yes I know gadgets exist that will do that for you, but I find it rather relaxing so I stick to the old-fashioned way.
Grilled Tuna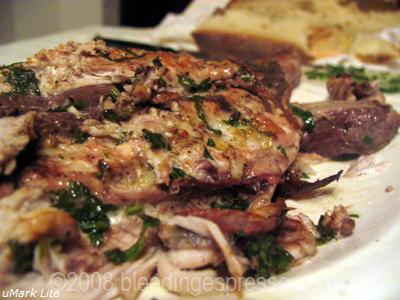 2 tuna filets
1 lemon
6 tablespoons olive oil
2 cloves garlic, peeled and minced
Handful of parsley, chopped
Salt and pepper
1. Prepare grilling area by lighting coals, etc.
2. When grill is about 15 minutes away from being ready, combine olive oil, garlic, and parsley in small bowl.
3. Roll a whole lemon on the counter a few times to loosen up the juice, then cut in half. Squeeze one half over each tuna filet, and then apply marinade to each filet equally.
4. Sprinkle each filet with salt and pepper, and let sit for about 15 minutes.
5. Grill tuna for about 10 minutes on each side, turning only once.
Buon appetito!
24 Beans of Wisdom to "What's Cooking Wednesday: Grilled Tuna"
---