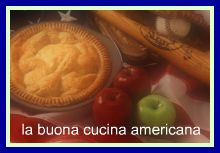 One of my favorite "Made by Mom" dishes is potato salad.
Indeed, I love all kinds of potato salad, including the one that Mary of The Flavors of Abruzzo posted two weeks ago. But my mom's, well, it's just my all-time favorite. It's great for a summer picnic, but we also have it as a side dish for Thanksgiving, and even at Christmas and Easter time to go along with baked ham.
Needless to say, it's a delicious taste of home, and it's this week's La Buona Cucina Americana recipe.
You see, when my mom was here over the summer, I specifically requested potato salad, but I didn't realize at the time that it would be perfect for the O Foods for Ovarian Cancer Awareness Month (potatO salad, get it?). So here it is.
By the way, remember to get in your recipes and entries for the O Foods Contest–details here!
Two notes on this potato salad: do play with the measurements until you get the exact taste you want. Also, onions go great in this, but be careful not to add too much as they will overpower the other flavors.
Mom's Potato Salad
3 medium potatoes
2 eggs, hard-boiled
2 ribs of celery, chopped finely
1/2 cup mayonnaise
1 tbsp vinegar (distilled or cider)
1 tsp sugar
1/4 tsp mustard
salt and pepper to taste
1. Hard boil the eggs. Remove from water and set aside. When cool, peel and cut into cubes.
2. Boil potatoes in salted water until just tender. Remove from water and set aside. When cool, peel and cut into cubes.
3. Prepare celery.
4. In a bowl, mix together mayonnaise, vinegar, and mustard, and add potatoes, eggs, and celery. Mix well.
5. Taste for salt and pepper.
6. Put potato salad in the refrigerator to chill for about a half hour before serving.
Insalata di patate della Mamma
3 patate medie
2 uova bollite
2 gambe di sedano tritate
1 bicchiere di maionese
1 cucchiaio di aceto di mele
1 cucchiaino di zucchero
1/4 cucchiaino di senape
sale e pepe qb
1. Fate bollire le uova, lasciatele raffreddare, sgusciatele e tagliatele a pezzi non troppo grande.
2. Fate bollire le patate in acqua salata (non devono essere troppo morbide), lasciatele raffreddare, sgusciatele e tagliatele a pezzi di circa 3 cm.
3. Tritate il sedano non troppo sottile.
4. Mettete le uova, le patate e il sedano in una ciotola e aggiungete il maionese, l'aceto, e il senape. Mescolate bene.
5. Aggiungete sale e pepe a piacere.
6.  Mettete l'insalata nel frigorifero per circa 30 minuti prima di servire.
Buon appetito e buon weekend!
26 Beans of Wisdom to "la buona cucina americana: insalata di patate della mamma"
---