Ever have one of those evenings when all you want for dinner is ice cream?
Well today there will be no cooking (i.e., no What's Cooking Wednesday for me, but do check out the others!) because we're going out for gelato!
Those of you who have been around the Italian expat blogosphere for a while know that Sara of Ms Adventures in Italy runs a fabulous Tour del Gelato–a virtual tour of the best places you can enjoy gelato in Italy and elsewhere, or as Sara writes "discovering the world's best gelato, one lick at a time!"
I'm not the only one getting gelato today, though. Be sure to head over to my Calabrian blogging buddy Cherrye's My Bella Vita to check out her Tour del Gelato stop at Marrons Glacés in Catanzaro!
Last summer I featured Golosia in Gioiosa Ionica Marina, which is just down the SS106 from me. But today we're staying right here in Badolato, in the Marina at least, and we're going to:
I love sitting here on a late morning in the summer and enjoying a gelato.
First, your choices:
Oh, just in case you aren't in the mood for gelato, how about a pastry?
I often go with pistacchio and some other flavor–today nocciola. Grazie Barbara!
Too pretty to eat?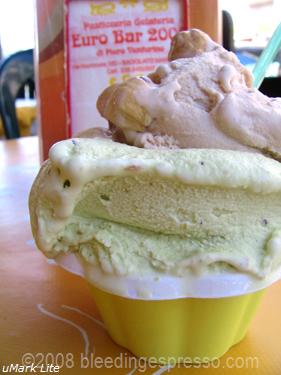 Nah. Now hurry before it drips!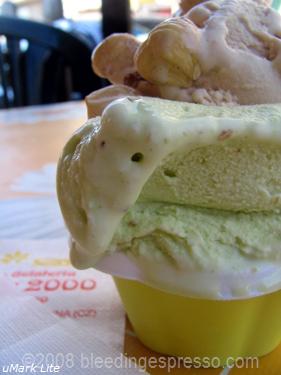 And just *look* at those hazelnuts.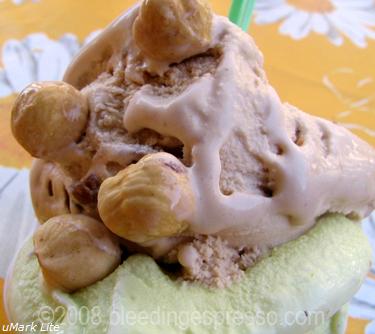 So, if you're in Badolato Marina in Calabria, stop in:
€uro Bar 2000
Pasticceria Gelateria
V. Nazionale, 180
88060 Badolato Marina CZ
Italia
338/545.2807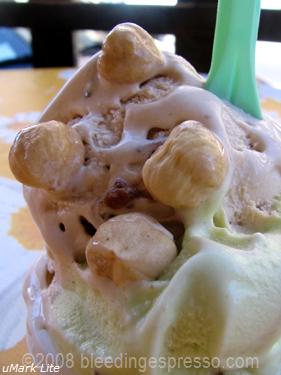 What's your favorite flavor of gelato or ice cream?
43 Beans of Wisdom to "tour del gelato in badolato, calabria"
---