Archive for the 'tour del gelato' Category

Ever have one of those evenings when all you want for dinner is ice cream?
Well today there will be no cooking (i.e., no What's Cooking Wednesday for me, but do check out the others!) because we're going out for gelato!
Those of you who have been around the Italian expat blogosphere for a while know that Sara of Ms Adventures in Italy runs a fabulous Tour del Gelato–a virtual tour of the best places you can enjoy gelato in Italy and elsewhere, or as Sara writes "discovering the world's best gelato, one lick at a time!"
I'm not the only one getting gelato today, though. Be sure to head over to my Calabrian blogging buddy Cherrye's My Bella Vita to check out her Tour del Gelato stop at Marrons Glacés in Catanzaro!
Last summer I featured Golosia in Gioiosa Ionica Marina, which is just down the SS106 from me. But today we're staying right here in Badolato, in the Marina at least, and we're going to:
I love sitting here on a late morning in the summer and enjoying a gelato.
First, your choices:
Oh, just in case you aren't in the mood for gelato, how about a pastry?
I often go with pistacchio and some other flavor–today nocciola. Grazie Barbara!
Too pretty to eat?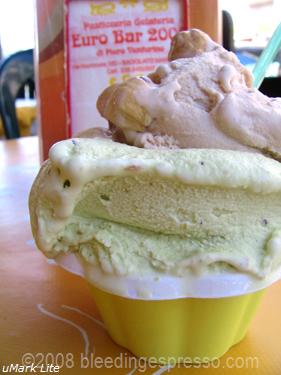 Nah. Now hurry before it drips!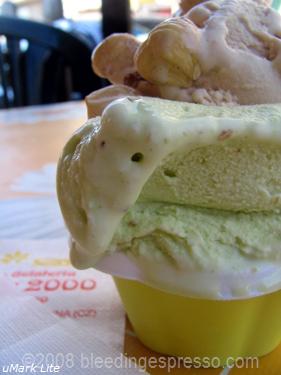 And just *look* at those hazelnuts.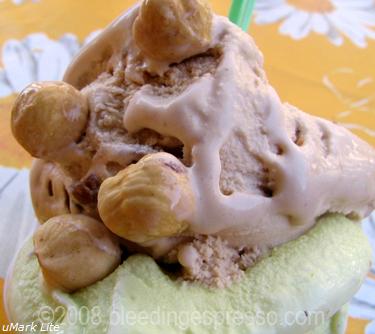 So, if you're in Badolato Marina in Calabria, stop in:
€uro Bar 2000
Pasticceria Gelateria
V. Nazionale, 180
88060 Badolato Marina CZ
Italia
338/545.2807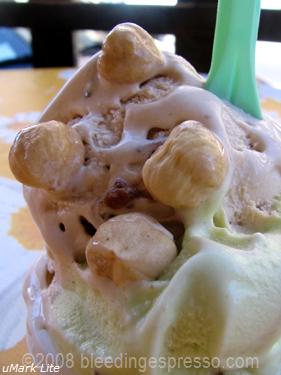 What's your favorite flavor of gelato or ice cream?
---
Here is, finally, my first contribution to the Tour del Gelato, brainchild of Sara of Ms. Adventures in Italy–and from what I've been reading in the blogosphere, my timing isn't too bad as it seems many of you in the US could use a touch of relief.
To my readers enjoying cooler weather, I'm jealous, but at least I have gelato!
Today's destination today is actually a place I've mentioned in a previous post (Eating Out in Calabria), and it remains my favorite gelateria (place where they make gelato, of course) around here.
It's appropriately called "Golosia," which means something along the lines of gluttony or greed in Italian, and it's been holding down a well-trafficked corner of the SS 106 (Calabria's version of California's Pacific Coast Highway) in Gioiosa Ionica Marina since 1989.
There are 32 different flavors in the gelateria section, but they also make cakes, pastries, cannoli, and torrone di mandorle–an almond nougat that's shipped all over Europe and even to America. Their concoctions have been honored in various prestigious events throughout Italy, including the famous EuroChocolate in Perugia (ooh, which I now see will be held on and around my birthday this year…hmm…).
Golosia also operates as a restaurant, and the place itself is rather large with seating for 60 inside and another 300 outside–some nights there's even a piano bar.
Right, but you want to see the gelato, right?
See those wafers in the "crema" flavor? They stick one of those in every cup or cone (two if you ask nicely). Pretty!
Now, as you might know, I'm currently cameraless, so these shots were taken with my friend Carla's camera–which had precisely 15 minutes of battery life left even though we were heading to a fun event (report coming soon!); needless to say, I had to snap quickly and then close the camera, snap and close, snap and close. So these aren't the greatest photos, but I think you get the idea.
Since Carla was dolce enough to give me free reign with her camera during our adventure, I promised her a spot on the blog. Here she is enjoying a banana cone, which I highly recommend as the banana flavor is *so* good. All their fruit flavors are made with fresh fruit, of course, so there's no weird artificial, medicinal banana flavoring going on here.
I'm sure the guy in the background only thought I was a *little* weird for snapping and closing repeatedly.
This visit I had a small cup of pistacchio (my staple) and "bacio." For those who don't know, bacio means kiss in Italian, but in the chocolate world, it's a small candy made by Perugina with a hazelnut inside. That description is pathetic for just how good they are, but it'll have to do until you can try one.
Anyway, the "bacio" gelato is made with them and, whoa, is it chocolatey. And delicious. Especially with pistacchio. Yum.
So next time you're in Calabria and looking for a great gelato, head to:
Golosia
Piazza Zaleuco
Gioiosa Ionica Marina (RC)
Italy
---
---