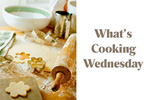 Before we get to the recipe, for those who are still wondering what the photo of the cheese-like substance was in yesterday's post, Jeff in Puglia got it right–it's homemade olive oil soap!
Now, the recipe. Remember when I made Gluten-Free Chocolate Coconut Muffins a few weeks ago? I had some almond flour left over so I went looking for recipes for another experimental installment of What's Cooking Wednesday.
I also wanted to use a banana that was past its prime, and by searching for "almond flour" and "banana," I found a recipe for Banana Hotcakes with Orange Honey Sauce. I made some adjustments to the recipe, including adding mashed banana to the batter rather than simply setting slices on top of the 'cakes.
The pancakes *with* the orange honey sauce were really good, and I'll definitely make them again when I'm in the mood for a breakfast healthier than white flour pancakes and maple syrup (yes I have the latter flown in). These definitely had a different consistency than "normal" pancakes (a bit more grainy and chewy) but that's to be expected with the change in flour. I was used to it and even enjoying it within two bites.
Honestly though, when I tried one of these without the syrup–um, not so good, but then again, regular pancakes aren't very tasty without anything added either (at least to me). If for some reason I were going to eat these without syrup, I'd definitely add some sugar to the batter.
Also note that this recipe didn't make very many pancakes–about six small ones–but *a lot* of sauce. No worries for me on the pancakes as P wasn't home when I made them. I had plenty for my breakfast.
And the leftover sauce? I used it that afternoon in my tea and then the next day for breakfast with fresh ricotta and more strawberries kind of like this. YUM!
Gluten-free Banana Pancakes with Orange Honey Sauce
Orange Honey Sauce
1 cup honey
Juice and zest of one orange
Pancakes
1 egg
1 teaspoon olive oil
1 overripe banana, mashed
1 small pinch baking soda
1 cup almond flour
1/4 tsp vanilla extract
1. Prepare sauce by combining honey, orange juice, and zest in a saucepan and simmer until it's thickened to syrup consistency. Put through fine sieve before pouring over pancakes. Serve warm.
2. For pancakes, whisk together egg, oil, vanilla, and bananas. Add baking soda and then almond flour a bit at a time until it gets to the consistency of pancake batter. If it gets too thick, add a bit of water or milk.
3. Pour batter in (your preferred) pancake-sized circles onto hot, greased griddle.
4. Cook 2 minutes on first side until you see bubbles on top. Flip and cook another thirty seconds or minute more.
5. Serve warm with orange honey sauce on top.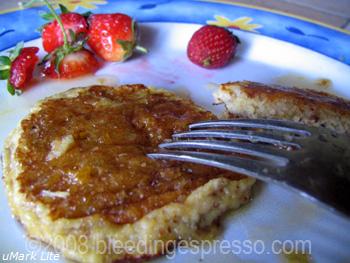 Buon appetito!
17 Beans of Wisdom to "what's cooking wednesday: gluten-free banana pancakes with orange honey sauce"
---