I've been so lucky to have been blessed with great neighbors.
Growing up, Sylvia, the Italian woman next door with four kids of her own, used to bake me a birthday cake *every* year–fancy ones like with a Barbie standing in the middle and stuff.
Even now, she still finds time to send me cards for my birthday and Christmas despite having many, many grandchildren (I've lost count!).
Well my buona fortuna continued when I moved here.
I've told you about my neighbor Anna Maria before, but I really can't express how lucky I am to have moved in near her. She is one of the kindest, most generous people I've ever known, always giving me something–literally just about every day it's something new.
Other than the usuals like olive oil, vino, red wine vinegar, lemons, oranges, clementines, and Brasilena, she also supplies me with some special harbingers of the seasons like:
Berrylicious homegrown strawberries and blackberries!
Just look at these gorgeous fragole: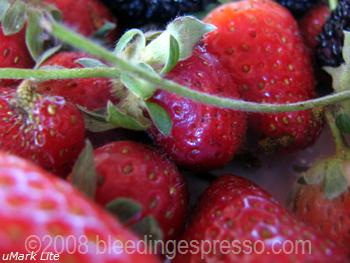 And she also brings me this:
Want a closer look?
Anyone know or care to guess what it is?
(I know some of you know!)
Also, if you have great neighbors you'd like to brag about, do share!
22 Beans of Wisdom to "thank heaven for great (italian) neighbors"
---