It's Palermonday again! If you missed the first installment, please check out last Monday's visit to Teatro Massimo as well.
Cherrye and I only had one full day to explore Palermo. We wanted to really get a feel for the city, so we decided to just walk around and see what we stumbled upon (with the help of some guidebook info of course).
As it turns out, Palermo is *fabulous* for walking because many of the major sites run along Corso Vittorio Emanuele, historically been the city's most important street, and that's the route I'm going to take you on.
We started at our hotel in the Piazza Marina area and headed away from the water and up the main street.
The gorgeous Piazza Pretoria was our first major find:
And we weren't the only ones there.
One sweet girl from this troop actually came up to me and asked me where to find something–apparently there was a scavenger hunt going on.
But the only thing I really knew how to find was what was in the middle of Piazza Pretoria: La Fontana della Vergogna, or the Fountain of Shame, a work by Florentine sculptor Francesco Camilliani and Michelangelo Naccherino completed in 1555.
Why is it called the Fountain of Shame you ask?
Well look at all that nekkidness!
You see, the fountain was originally intended for the private villa of the Viceroy Don Pedro de Toledo in Tuscany, where perhaps the 16 (nude) representations of gods and goddesses would've been more appropriate.
Let's just say it didn't go over so well in the middle of Palermo.
Piazza Pretoria is absolutely surrounded by churches, and as it turns out, the faithful weren't too excited to come out of Mass and see such debauchery.
But to my 21st century eyes, the fountain and everything around it is simply amazing.
I even love the inscription telling us the name of the iron foundry responsible for protecting the fountain.
Grazie Fonderia Gaetano Basile!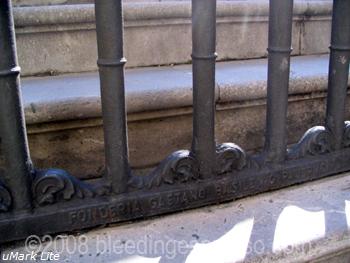 And here is some detail of the church across Via Maqueda (in the background of the first photo), Chiesa di San Giuseppe dei Teatini, designed by Giacomo Besio in 1612 with the dome added in the 18th century: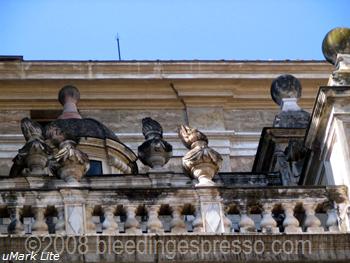 You might get the idea that Cherrye and I spent quite a bit of time in this square. We did.
It's breathtakingly beautiful.
And since photos of the fountain at night are so lovely, I can only hope to get back to Palermo someday and see it all lit up in person.
Who's coming with?
17 Beans of Wisdom to "La Fontana della Vergogna – Fountain of Shame – in Palermo, Sicily"
---