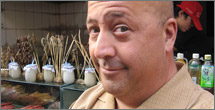 Do you know the television show Bizarre Foods with Andrew Zimmern? We love it, and I may or may not have a secret crush on the host.
Ahem.
In Italy, the show is called Orrori da gustare, literally Horrors to try/taste.
Sure they could've used the word bizzarro to describe the food, but the translators went one step further to demonstrate just how, um, eeeeeeew some of the things that Andrew eats really are–bites of lamb's eyeballs, beating frog hearts, all kinds of rotting meat and fish and more. YUM!
So you would think that P and I wouldn't have too much of a culture clash regarding this show because we *all* agree these foods are bizarre, if not true horrors? Right? Right? Hmm….
Through my recipes, I think I've demonstrated here that I like an awful lot of Calabrian food–I can get with wild boar (cinghiale) and rabbit (coniglio)–but I make no secret of my dislike of many traditional Calabrian foods, i.e., those you probably won't be seeing on What's Cooking Wednesday, such as:
u suzzu: random pig parts (tongue, lungs, heart, stomach, etc.) in gelatin with peperoncino and vinegar. I like my gelatin in Jell-O thankyouverymuch.
e frittule: boiled pig parts, especially the skin, that give off a smell I won't even begin to describe to you because it's turning my stomach just thinking of it.
ghiro: dormouse, usually in a tomato sauce (illegal to capture, actually).
I should be perfectly clear that I have tried three of the five on the list (care to guess?) and will probably eventually try them all if/when they are presented. I'm proud to say I'm quite Andrew Zimmern in that respect.
I *hate* when people say they don't like something without trying it, so I practice what I preach.
And then I spit into my napkin if necessary.
Just kidding.
Sort of.
All of this is a lead-in to a conversation that P and I had the other night:
We were starving and only starting to prepare dinner as I flipped the channel to Orrori da gustare.

I quickly changed the channel.

"Oh we shouldn't watch this now," I said, meaning that we would be so disgusted that we'd lose our appetites.

"Yes," P agreed.

"It'll make me too hungry."
Thus proving Andrew's mantra, "One (wo)man's poison is another's delicacy" once again.
[P.S. Andrew, we got some poison "delicacies" for you in Calabria!]
This is all the more ironic because P is so against most "American" foods that he won't even try them, or will only do so after I beg and plead.
Peanut butter took six months of cajoling. SIX MONTHS!
Mah.
So tell me, do you and your Other Half agree on food?
What foods gross you out?
What's the most bizarre food you've ever tried?
P.S. Be sure to check out some decidedly delicious food–
Mary's Crab Cakes at The Flavors of Abruzzo
for La Buona Cucina Americana!
Buon weekend!
54 Beans of Wisdom to "One (Wo)man's Poison Is Another's Delicacy"
---