Many people mistakenly believe that the weather in southern Italy is tropical or nearly so. It really isn't. We do have seasons, although winter brings more rain than snow and spring can seem awfully short before we are thrust into the heat of summer.
Another southern Italian factoid is that most of the houses here are built with stone and/or tile, i.e., with "natural insulation"; central air and heat are only coming into fashion now, but it's still quite expensive to run because of electricity costs.
And so most of us are "green" without even really trying.
All of this means that if your house isn't directly in the sun, it can get pretty darned cold inside and stay that way–even now, in the spring when I often have to take *off* layers of clothes to go out with the dogs.
[This cooling effect works a bit in our favor during the summer, although not as much as it seems to work against us in the colder temps.]
Anyway, I am so very pleased to announce that it has been nearly a week since I've had to turn on the space heater near my work area, which means spring truly has arrived!
It also means I've had to switch to another method of keeping my seat warm: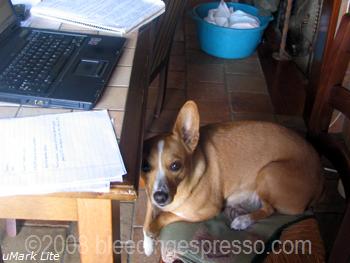 All natural, and works for us!
Happy Love Thursday everyone!
P.S. Yes this photo sums up my life rather well–
work, pooches, and laundry in the big blue vasca.
28 Beans of Wisdom to "love thursday: my own personal seat warmer"
---