Archive for the 'weather' Category
---
Lest anyone try to convince you that Calabria has a tropical climate, let me assure you–it's gets *cold* here in the winter, especially the further you go up into the mountains (duh). And I know Cherrye is with me on this.
Seriously, I've seen people on message boards claim the temps never fall into the 40s. Please. We have *skiing* here for goodness' sake!
The temps may not always be low like what I was getting used to in Pennsylvania, but there's usually a good bit of humidity in the air and once that enters these old stone walls, tile floors, and *your bones*, well, you get the point, right?
Central heating here is rare, and indeed, quite expensive as electricity costs are outrageous. People turn to various solutions for heat: gas stoves, pellet stoves, old-fashioned fireplaces, and my favorite, the wood-burning stove.
This is our first winter in this house, which used to have an old fireplace that did precisely nothing for heating the place (P grew up in the house); it was one of the first things we gutted, in fact. So we've been making do with small electric space heaters only when we *absolutely* needed them. Still, I'm not looking forward to my next electric bill.
Even then, wearing several layers of clothes inside the house was normal, and in fact, necessary. I know this may seem strange to those of you who walk around in t-shirts in your house when it's 30 degrees Fahrenheit outside, but trust me, that isn't a common scene in Italy even *with* heat.
But then, just this past week, we joined the ranks of the "heated." P had scouted out wood stoves while I was in America, and neither of us were thrilled with the selection or prices. So when I got back, I took to the Internet. We found something perfect, for a good price (including delivery), and it arrived within a week! I know!
P and his friend left the village in the morning to get the pipes and everything to go with it and had it installed within an hour.
Meet Sammy Stufa and her new best friend, Stella: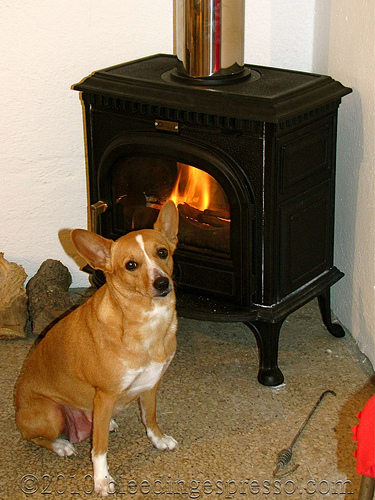 I seriously couldn't love this thing more.
Not only does it heat up the entire top floor of the house, I can even melt my Nutella on top of it so it's spreadable again! At some point, we'll put ducts through the house to *really* circulate heat through the place, but as they say in Italy, "pian piano…."
(Hey, don't forget World Nutella Day is coming up!)
Buon weekend! Stay warm!
---
---
---
---
---