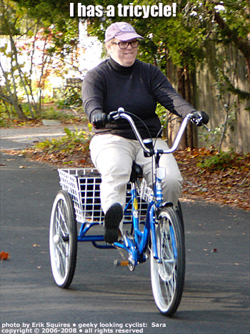 Two months ago, I got an email entitled "The good news is I'm not expected to die immediately" from my friend Sara of Moving Right Along.
Deep breath.
Sara hadn't blogged in a while, and it turned out that a brain tumor was the reason why.
Before going in for surgery, Sara sat down and wrote an email to make sure that her online friends knew how to keep in touch with her should she never be able to read and/or write again.
Deeper breath.
I told my mom and P about her story, blubbering through it and finishing with a tirade about the lack of universal health care in America both times.
I thought about Sara at least once every minute I was awake on the day of her surgery and the day after until I received an email from her True Love that she was doing well.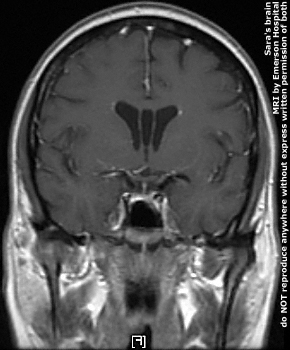 This is just a small measure of how deeply Sara and her blog and her amazing spirit and wit and humor and L.O.V.E. have touched me. The photo to the right is Sara's "healthy butterfly" from an MRI taken after her surgery, and yes, that's Sara above on her tricycle.
She's been through cancer and a leg amputation and insurance company ridiculousness and so much more, and so I knew deep down that Sara would come through this ordeal with an amazing strength as well.
What I didn't expect was that she would come back writing better than ever, touching my heart on new levels, making me think about everything in a new way.
But I'm not going to blather on about Sara and why you should go read her blog any more; I'm pretty sure that would make her uncomfortable, and that's the last thing I want to do.
You see Sara is one of those "leads by example" kind of people I admire so much. She goes about her daily business, deals with what life hands her, does it with grace and love, and is kind enough to tell us about it–and when we're extra lucky she takes photos as well.
Go visit Sara.
I can't think of a better way to spread some love this Love Thursday.
Happy Love Thursday everyone!
29 Beans of Wisdom to "1st of the month featured blogger: may"
---