Please let's ignore the fact that Berlusconi has fooled a majority of Italians into voting him into office a third time, OK? And also that my local party lost as well. Instead let's move on to happier, comforting topics.
Like food.
You may be wondering where What's Cooking Wednesday is this week. Don't worry, it's still going on at Shannon's Tales from a Fairy Blogmother, but here at Bleeding Espresso, I'm shifting it to Friday when I'll be posting my mom's stuffing/filling/dressing recipe for La Buona Cucina Americana. Be sure to come back!
Keeping the food theme going, though, and finally getting back to my trip to Sicily, I'm going to tell you about one of Palermo's most famous spots, the Antica Focacceria San Francesco:
The Focacceria is located on a tiny street opposite a small square anchored by the Chiesa di San Francesco d'Assisi: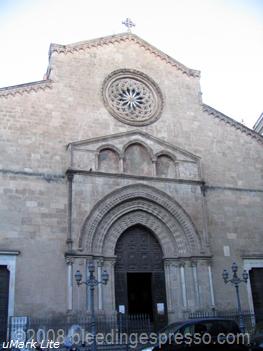 See that design near the top of the church? Here's a view from inside:
And here is some detail on the outside of the church (another here):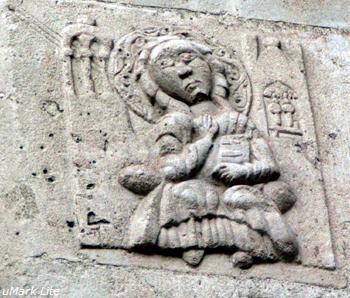 You can't miss this place as you'll probably wonder why a carabinieri car and two officers are outside. All. The. Time. Erin of The Olive Notes explains the phenomenon here. Hint: it involves something that rhymes with "The Bafia" but it's probably not what you think, so do read Erin's post.
The Antica Focacceria has been around since 1834 and is listed in all the guidebooks as one of *the* places you should visit in Palermo for traditional Sicilian food; luckily for Cherrye and me, our hotel was literally just around the corner–in fact, that's where the hotel got our delicious morning pastries from.
On our first night in Palermo as we searched alto and basso for something, anything to eat before 7 p.m. (unsuccessfully), we decided against the Focacceria because (gasp!) the ala carte food looked old and crusty (I'm sure it was great at lunch though!), and also because we didn't realize that we also had the choice of eating upstairs, which is more like a standard restaurant and overlooks the hustling bustling ala carte section below.
We made a fabulous decision to return to the restaurant section the following night, though, and were treated to an amazing dinner that cost us each under 20 euros, including a small carafe of house wine.
We started out by splitting the Sicilian sampler (as I like to call it):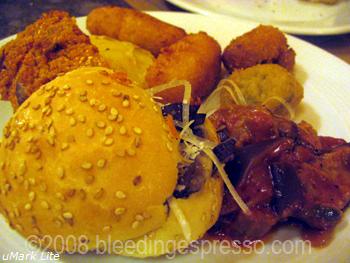 Pane con milza (spleen sandwich, which yes I tried and actually liked in a small dose), sfincione (thick Sicilian pizza topped with an anchovy, tomato, spicy mixture), arancini (rice balls with various fillings), potato croquettes, pannelle (chickpea fritters), and caponata (eggplant, peppers, capers, veggie mix).
And then on to one of Sicily's most famous dishes
made with eggplant and ricotta salata,
Pasta alla Norma:
And once we saw this dessert cart come to the next table: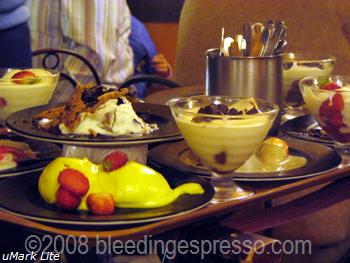 We knew we'd have to get something. So we split this: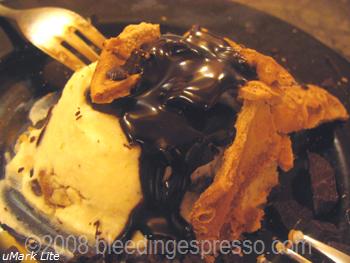 Which the waiter just pulled from the cart and gave to us–no wax doubles like in America!
This was basically an inside out cannolo drenched in chocolate syrup. *So* good, as was everything apart from the pasta, of all things, being a tad undercooked and a bit salty.
But overall, you definitely have to stop in the Antica Focacceria on a visit to Palermo.
Aside from tasty traditional Sicilian food, a fun atmosphere, cheerful service, and great prices, the portions were so big that we didn't finish anything. Unfortunately since we were leaving Palermo by train the next morning, doggie bags were ill-advised (and yes, I would've asked even though they're not the norm in Italy!).
Tragic, I know.
Antica Focacceria San Francesco
Via Paternostro, 58
90100 Palermo
091 32 02 64
32 Beans of Wisdom to "Antica Focacceria San Francesco in Palermo, Sicily"
---