We've visited the Sanctuary of the Black Madonna in Tindari, and now it's time to tour the ruins.
Tindari, ancient Tyndaris, is about 60 km from Messina and sits above the Tyrrhenian Sea with views of the Gulf of Patti and the Cape of Milazzo, a fabulous strategic position to control the waters between the Aeolian Islands and Messina back when there where pirates and whatnot.
Tyndaris was originally settled in 1500 B.C. but Dionysius I of Syracuse turned the settlement into a full-fledged Greek city in 396 B.C.
Tindari then came under control of the Romans in 254 B.C., after which most of the Greek infrastructure was modified or simply built over to accommodate the prospering city.
Other major events in the city's history include an earthquake in 365 A.D., a landslide at the end of the 1st century A.D., and the construction of the Sanctuary of the Black Madonna sometime before the Saracens invaded the city in the 9th century.
By the 19th century, Tindari was abandoned, leaving behind only the Sanctuary and the ruins. Ready to see what's left?
Here is the Greek amphitheater built in the 4th century B.C. and later modified by the Romans:
This once hosted some spectacular gladiator battles, but now it is home to the Tindari Estate (Summer) Festival. From late July through the third week of August, the old theater is full of life with poetry, music, dance, and play performances.
Incidentally, over the years, the theater was disassembled to make city walls, some of which are still in place; this is the walk up to the ruins with some of the old stones visible on the lower left: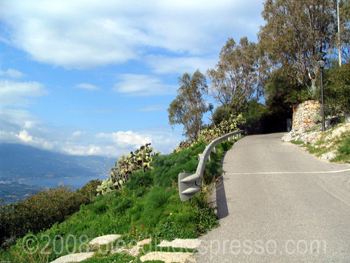 The site also contains the remains of an old basilica that, again, was erected by the Greeks in the 4th century B.C. but has been modified over the years, and even partially restored quite recently.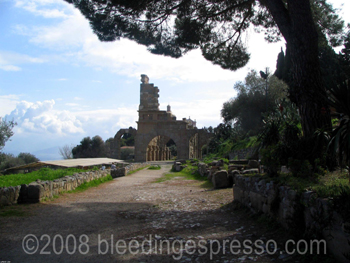 And then there's everything else–remains of baths, houses, schools, and other buildings.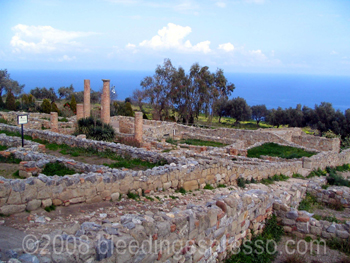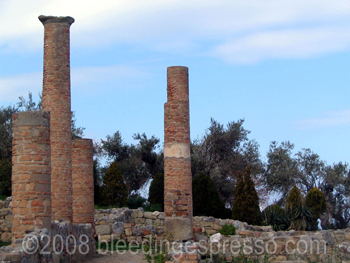 And the mosaics–can't forget the mosaics.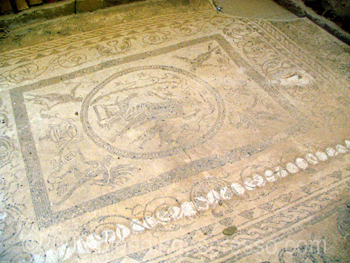 Here is the Sicilian symbol "Trinacria."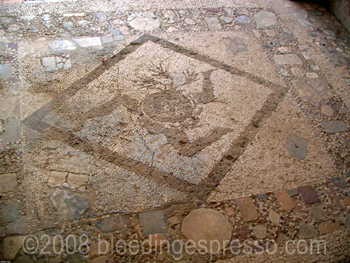 There are also animal mosaics–a fabulous bull and goat if you're interested.
The complex also houses an Antiquarium–a museum that stores some of the treasures found at the site:
Doesn't he remind you of my muse, Leonardo?
I could've spent *much* more time here, absolutely enveloped in peace and calm. The natural surroundings here are just amazing: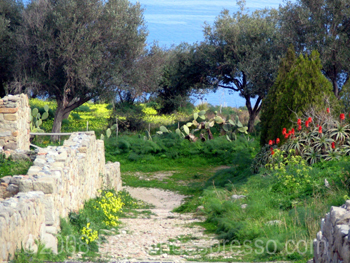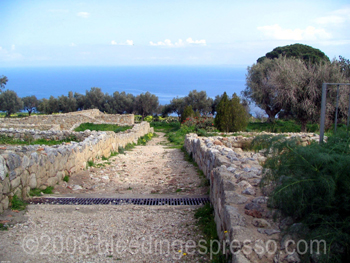 Between the ruins, the Sanctuary of the Black Madonna, and the gorgeous scenery, Tindari is simply a must-stop if you're traveling through this part of Sicily.
Bring a picnic lunch and allowing yourself plenty of time to daydream.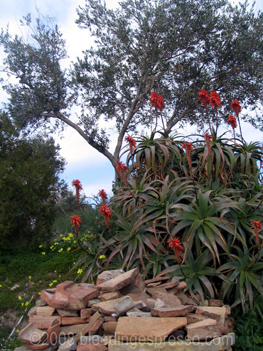 Check out my Sicily 2008 Flickr collection for lots more photos of Tindari!
32 Beans of Wisdom to "The Ruins of Tindari, Sicily"
---