Some guidebooks I've seen advise readers to pass quickly through Messina, the port city at the northeastern tip of Sicily and your likely first stop if you're coming from Calabria across the Strait of Messina.
I got a different impression of this bruised and battered place, though, and I plan on going back for a more thorough look around; lucky for me I know a few people, including one of P's sisters, who live there.
In case you're wondering, we got to Messina pretty easily, taking the train from Lamezia Terme to Villa San Giovanni for the traghetto–no thanks to the conductor on the train, mind you. As our tickets only said "Messina" with no information on changing trains, etc., I asked him what we'd have to do to get to Messina. He said to get off the train, walk under the "sottopassaggio" and get on the boat. Or swim.
Witty, wasn't he?
He neglected to mention, of course, *where* we'd have to get off that train, but luckily we knew that the ferries ran from Villa San Giovanni, so everything went smoothly from there; we even made fast friends with a nice Italian man who, upon hearing us speaking English, told us that he had lived in Connecticut for 17 years.
We only spent a morning touring Messina and my camera batteries were dead, so I don't have *too* much photographic evidence for you (at least not of my own), but I hope you enjoy this quick virtual tour through Messina anyway.
* Basic facts about Messina *

Messina was founded way back in the 8th century B.C. by the Siculans who named the city "Zancle" or sickle because of its peculiarly-shaped harbor. The Greeks took over in the 5th century, and later, Anaxilas, tyrant of Reggio, gained control and changed the city's name to Messene in honor of his homeland, Messenia.
As all of southern Italy, Messina endured many rulers including Carthaginians, Romans, Goths, Greeks, Arabs, and Normans, but the history of the city is probably best summed up in one word: disaster.
From the Bubonic Plague (1743) to cholera (1854) to earthquakes (1747, 1894, 1908) to war-time leveling (1848, 1943), Messina has been the victim of an enormous amount of malocchio. See, and you wonder why guys grabbing their crotches for protection is such a big deal round these parts.
Other protection is Messina comes in the form of its patron saint, the Madonna della Lettera (Madonna of the Letter), who is said to have sent the citizens of Messina a letter promising them eternal protection for their recent conversion to Christianity.
A gilded Madonna blesses each new arrival into the port of Messina from her spot of honor atop one of the towers of Forte San Salvatore, built in 1546 by Spanish viceroys.
You can read more about the Madonna della Lettera at Cherrye's place.
* Favorite things I saw in Messina *

OK, like I said, we didn't get to see too much, but here are three of my favorite things that I saw in Messina:
* The Bell Tower of the Cathedral of Messina *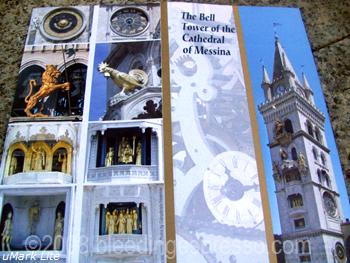 Yes, that's a brochure (remember: dead camera batteries), and no, we weren't allowed to go up inside "the biggest and most complex mechanical and astronomical clock in the world" because we were told it was too windy (was a perfectly lovely day). It was still pretty cool from the outside, though, especially at noon when the theatrics started.
The lion roared, the cock crowed (or at least he tried to–technical difficulties), and all of the biblical scenes were set into motion, including one representing the Madonna della Lettera, to the tune of "Ave Maria." Every inch of this clock, which was installed in 1933, symbolizes something.
If you'd like to read more about our clock experience, check out Cherrye's post "The Ding Dong, The Lion's Roar, and the Ave Maria." Also feel free to contact me and I can send you a scan of the brochure with all the details.
* The Fountain of Orion & the Fountain of Neptune *
OK, these are really two things, but since they're both fountains, I've grouped them together.
La Fontana di Orione, the Fountain of Orion, is found in front of the Cathedral and was done by Florentine Giovanni Angelo Montorsoli in 1547. Orion is Messina's mythical founder, and the fountain was built to honor both him and the city's first aqueduct.
La Fontana di Nettuno, the Fountain of Neptune, is found, not surprisingly, overlooking the sea. If it looks to you like he's telling the waters in front of him to calm down, well, your eyes aren't deceiving you–that's precisely his role in this disaster-ridden city.
The current fountain is actually a replica of Montorsoli's original one, created in 1557, that has been heavily damaged. You can find the original marble Neptune at Messina's Museo Regionale.
* La Galleria Vittorio Emanuele III *
La Galleria Vittorio Emanuele III was constructed between 1924 and 1929 under the guise of Messina's own Camillo Puglisi Allegra. It's a one of a kind building in the south of Italy with shops and restaurants surrounded by beautiful architectural and decorative elements.
A very special grazie to Vanessa for playing tour guide and hostess, and a ciao to our new friend Hilary (she of the *delicious* cheesecake)!
Also be sure to check out my Flickr Sicily 2008 Photo Collection; I'll be adding photos daily!
————–
[tags]messina, sicily, sicilia, neptune, madonna della lettera, bell towers, campanile, fontana di Orione, fontana di nettuno, galleria vittorio emanuele III[/tags]
24 Beans of Wisdom to "A Quick Stop in Messina, Sicily"
---