* Have you joined The Ultimate Blog Party? See my welcome post here! *
Remember when I told you that men can no longer (legally) grab their crotches in public in the Bel Paese any more?
Well I have some more tidbits for you. Let's link arms and stroll through these.
* Lying about adultery to police is OK! *
For women, at least. Italy's highest appellate court has ruled that it is permissible for a married woman to lie about extra-marital, ahem, activity in a judicial investigation because adultery damages her honor.
Yes, this court referred to a woman's honor.
In 2008.
In unrelated news, former U.S. President Bill Clinton has announced plans to move to Italy and fight for equality under the law. Hah! Just kidding! Still love ya Bubba! Go Hibs!
Of course the Italian court in question is the same one that once ruled that a woman wearing tight jeans couldn't, by definition, be raped because said jeans could only be removed with her consent. That ruling was, by the way, later overturned.
* If you have pending criminal charges against you, run for office! *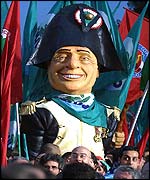 Former Prime Minister Silvio Berlusconi's trial on corruption charges has been suspended until after next month's elections . . . in which Berlu is seeking to become Italy's Prime Minister. Again.
And he's leading in the polls folks. Gah!
Should he win, I'm sure he'll just pass a law that says he can't be brought to trial during his reign as Prime Minister. You know, like he's done before.
Or maybe he'll just decriminalize the offenses with which he's charged. You know, like he's done before.
Yes, we have our own version of Teflon Don over here, although to be clear, I do not insinuate or imply any Mafia connections regarding Berlusconi, who estimates he's been in nearly 100 court cases since entering the political realm.
Convictions? Hah! You funny.
So that's what's new over here. And you thought Hillary's being called a "monster" was scandalous.
20 Beans of Wisdom to "news from italy (couldn't make this stuff up if I tried)"
---