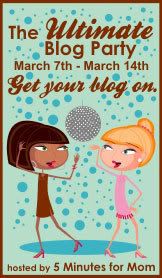 It's that time of year again–The Ultimate Blog Party is here!
The wonderful women of 5 Minutes for Mom are our hosts. There will be prizes and, best of all, lots of great blogs to discover, so get on over there and sign up!
I participated last year as well (you can read my welcome post here), but for those of you visiting for the first time:
I am an American who has been living in southern Italy for, oh my goodness, almost five years already. I have a P (my fiancé), a Luna and a Stella (my adorable pooches), and you can read plenty more about me here.
This blog is a place for me to keep family and friends up to date on my life as well as share my observations on Italian curiosities from governments collapsing to plastic ball protests to*big* mistakes in ordering shoes for policewomen to pasta strikes.
No, it's never boring in Italia.
Especially with all the great food. Need a recipe? I've got plenty here, but how about some bruschetta al pomodoro to start off this party?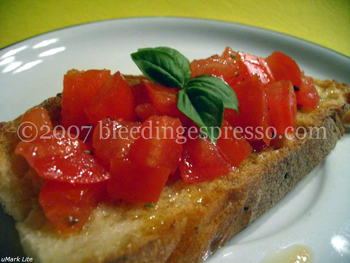 Please feel free to make yourself at home and have a look around–some of my favorite posts are here. And be sure to let me know you've stopped by!
Now I don't know about you, but I have some serious blog-hopping to do.
P.S. For those looking for a post on Sicily, there are lots more Sicilian adventures on the way. Remember to keep an eye on my Sicily 2008 Flickr set for updated photos!
120 Beans of Wisdom to "welcome to the ultimate blog party!"
---