*Updated to direct you to what Juli, a trusty correspondent in Umbria, dug up about Graziano Cecchini and the ball stunt: Behind the Balls.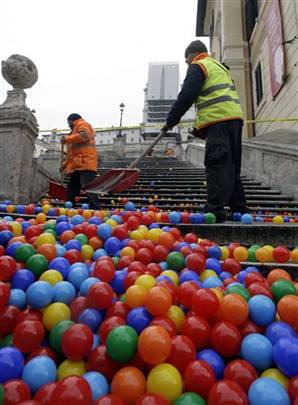 The other day Rome's Spanish Steps were having a ball.
Well, actually a half million of them as red, blue, yellow, and green balls flowed down one of the Eternal City's most famous landmarks.
The rainbow spectacle was the doing of Graziano Cecchini who commented that we use "art — if we want to call it art — to stress our malaise."
Cleaners were on the ball, so to speak, and got the lot of balls cleared out rather quickly, although they also had help from tourists who grabbed some of the only free souvenirs they'd find in the Bel Paese. Word has it that some balls even quickly found their way to eBay.
Some of you may remember Cecchini as the mastermind behind this last year: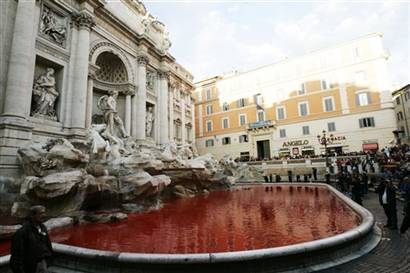 This is the Trevi Fountain dyed red in October. Leaflets found nearby said that the red represented the red carpet of the Rome Film Festival and the water was dyed red in protest of the expenses incurred organizing the event.
After the Trevi Fountain incident, Cecchini was investigated for possibly damaging historical monuments, but experts said that, thankfully, none of the red color had seeped into the 18th century fountain's marble structure.
So what do you think about such displays?
Art? Vandalism?
Inspiring? Disgusting?
Does it make you want to browse listings of Rome hotels, make a reservation, and wait for another show?
And would you have, ahem, grabbed a ball–or did you?
Do tell.
Buon weekend!
47 Beans of Wisdom to "having a ball in rome"
---